Spotlighting Spartan clubs to join next year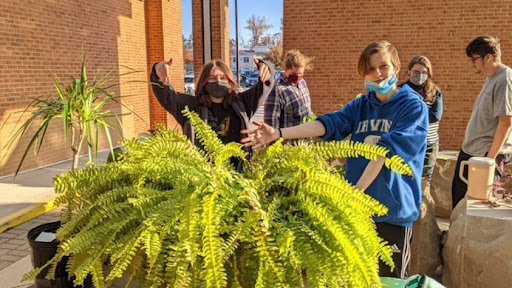 Extracurriculars are important in helping students try new things and discover their passions. Despite this, not many students know about the available options, and many are reluctant to show up to meetings when they don't know what to expect.
Many different types of clubs are available. Special interest clubs like the Environmental Club, Gardening Club, Buddies Club, and Spartans for War Victims are offered, as well as more academically-centered clubs, like Model UN.
Environmental Club
"I've always cared about the environment and I have wanted to be a part of a club that made a difference in our community and environment around us," said junior Ella Russell, member of the Environmental Club.
In this club, members make presentations and have discussions about environment-related topics, such as recycling or sustainable shopping. They also take part in cleanups at local parks.
"Other people should join the Environmental Club because it's a great way to get service hours and at the same time help the community around us," added Russell.
Gardening Club
"A lot of people are nervous to show up, but we don't do anything scary, we just vibe and plan stuff to help insects and Virginia," said freshman Mikey Frey, president of the Gardening Club.
In this club, members plant seeds and flowers outside the school, as well as water plants in classrooms. They also plan fundraisers to buy materials and plants.
Buddies Club
"The best part about being in Buddies Club is being able to see the smiles on my peers' faces when I say hi in the hallway, or when I sit to eat lunch with them," said junior Emma Jury, member of the Buddies Club's leadership team.
In this club, monthly events are held where everyone is welcome, and they're meant to be events where students in general education can connect with students in the special education program. They have most recently held Valentine's Day and St. Patrick's Day parties, and the leadership team does extensive planning for these events.
"Ms. McKenna told us how most of her students have grown up surrounded by the same students all their lives," added Jury. "They do not get to experience a lot of the things that my general education peers do or have the same opportunities, and I think most people tend to look past that."
The most recent event held by the Buddies Club was their prom on May 20. The prom was luau-themed and was held in the cafeteria. Everyone was welcome to attend, and there was plenty of food, music, and fun.
Spartans for War Victims
"After first-hand seeing the devastating effects of war on civilians, I realized I could no longer sit by and watch," said senior Sumaya Zahid, co-founder and president of Spartans for War Victims (SWV).
SWV helps aid civilians living in war zones. Members work on humanitarian aid projects each meeting, and organize activities like preparing for donation drives, talking to congressional members, hearing from guest speakers, and hosting awareness workshops.
"I hope SWV, today and tomorrow, is the reason a child in a war zone can sleep warmly through the winter or has the materials to attend school to build a brighter future," said Zahid.
Model UN
"There are so many new people almost every meeting and we always cover the basics and have plenty of time to practice and ask questions to perfect skills and have fun," said senior Jack Bowling, president of Model UN.
Model UN is a simulation of the United Nations, where students act as delegates for different countries and attempt to problem-solve and negotiate with each other. They then attend conferences with delegates from other schools to see which delegate is the most successful in problem-solving, and receive awards. During meetings, members discuss future conferences they might attend and practice skills they need.
"It's super fun and teaches good public speaking skills, as well as looks really good on college applications," said Bowling.