Digging up the dirt on the Gardening Club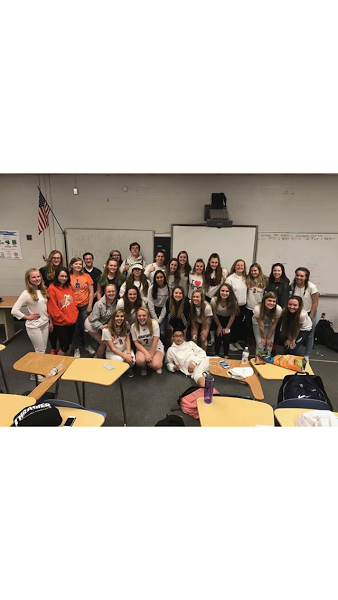 Sara Waugh, Viewpoint Editor
April 20, 2017
Hang on for a minute...we're trying to find some more stories you might like.
Fresh produce, herbs, and flowers will soon fill the WS Japanese Courtyard.
The Gardening Club is WS's newest club and was founded by sophomores Rebecca Geiger and Erika Parker.
The officers got the idea for the club during health class when the club's sponsor and health teacher, Casey Grubbs was "talking about gardens and nutrition, and we got to talking and were like, what if the school had a garden?" said Geiger.
With the nationwide push towards consuming locally grown food, it doesn't get much more local than this. Everywhere we turn, there's a television advertisement or a post on Instagram highlighting healthy food. But, for years this has not been the case at WS. And that's the exact challenge the Gardening Club aims to tackle.
"We want to grow lots of fruit, vegetables, and herbs and even possibly bring it into our lunch room," said Parker.
Not only would this allow for locally grown produce to be available in the cafeteria, but it would ensure that students would be consuming pesticide-free food. Instead of spending a fortune at grocery stores that specialize in organic food, students will have access to them at their very own school.
It isn't just about the food, either. The officers hope to nurture a community where gardeners can share their passion with others. Some possibilities for the immediate future of the club are that "members could build planter boxes, maybe a water drip system, and we can harvest," said Geiger.
There may also be a compost bin, which would utilize food scraps from the cafeteria. The product could then be used to fertilize the garden.
Before the club can showcase its green thumb, gardening tools, plants, and seeds must either be purchased or donated. Shovels and trowels are just the beginning; assuming all goes as planned, the club is set to be in full operation by the late spring of this year.
The club's first interest meeting took place on Thursday, March 23. With 30 people attending the meeting, everyone was ready to start the discussion of the future of the club.
"[The first thing the club wants to do is] to get some nice vegetables in the school that we probably don't have," said sophomore and Gardening Club officer, Lauren Grenz.
Inspired by the need for easy access to healthy food for the Spartan community, the club may even donate their fresh produce to the Gourmet Foods class.
For updates and information regarding the WS Gardening Club, follow @WSHSGardenClub on Twitter.
"We just want to make good food and help the school as much as we can," said Grenz.