The historical life of Henitz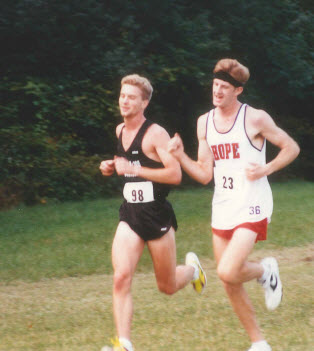 Christina Manibusan, Page One Editor
April 20, 2017
Hang on for a minute...we're trying to find some more stories you might like.
Although most Spartans probably know Brian Heintz from his role here as a US History teacher, he was also an athlete in college; however, his career as a runner began as an accident.
Before Heintz started teaching, he ran cross-country for Kalamazoo College, a Division III school in southwest Michigan. His story is atypical because his recruitment was a mistake.
"It's a funny story, but true," said Heintz. "The coach recruited me by mistake, but by the time they found out, it didn't matter [because] the DIII programs [were] open."
He still decided to attend Kalamazoo and make the best out of the situation. Although he was not the fastest runner on the team, he trained hard and worked during the offseason to earn his spot. He was the number five runner on the team by the time the first freshman race rolled around.
"I trained like a fiend over the summer," said Heintz. "I never looked back."
Being a cross-country athlete in college proved to be a beneficial experience for Heintz. For instance, it allowed him to arrive early to the campus and familiarize himself with the environment before the stress of classes began.
"I loved every bit of it," said Heintz. "It also started me running, which I still do whenever I can."
Similar to his athletic career, his teaching career also had an unorthodox origination. During his senior year of college, he was preparing to go to law school or graduate school, but a lack of finances prevented him from doing so.
"[I was] beyond student loan-broke, and [I] couldn't afford rent," said Heintz.
He decided to save money and get some easy credits by staying at home. He was drawn to teaching, so he student-taught at his own high school; the rest was history.
"My supervising teacher walked out of the room on my first day, telling me the equivalent of 'You got this,'" said Heintz. "They hired me three days after graduation."
Heintz currently teaches US History and Applied History here. His students often praise his ability to make connections between historical facts and make learning an enjoyable experience.
"As someone whom history does not come easily to, I think [his teaching style] really works and helps me to understand the material," said junior Laura Maloney, a student in his AP US History class.
His care for his students and for the Spartan community was evident when he recently purchased a water dispenser for his classroom. This allows his students to bring water bottles to class and refill them conveniently, without having to make the trek outside.
"[It] lowers the amount of plastic cups that West Springfield uses," said Maloney. "My friends and I bring teabags and thermoses so that we don't have to waste time at home."
All in all, his journey to become a teacher at WS began with his recruitment to a program he was not supposed to be included in.
"It was one of the singularly best experiences of my life," said Heintz.