WS Tech students compete at Technosphere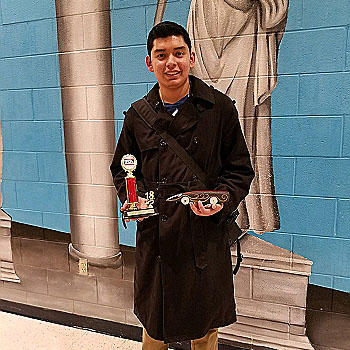 When you hear TSA you might think airport security, but at WS, TSA stands for the Technology Student Association: a club for students interested in technology, engineering, and design where the members work all year to create a project that they compete with in the TSA competition.
Junior Lily Tso, the president of TSA, placed first in the regional and state levels for Transportation Modeling, and senior Walter Ferrufino won first place in the regional competition in the Dragster category.
"To be one the best high school engineers in the state is amazing. I spent over 100 hours working on that project, not including time to 3D print the car, so to know that my dedication and effort weren't for nothing is a good feeling," said Tso.
In Tso's category, Transportation Modeling, students have to design a model car that fits the theme of the year. The theme for this years competition was "The History of Stock Car Racing," and Tso did a 1940s-1950s stock car. Tso's car was designed on Inventor Studios and she then printed it with a 3D printer.
Ferrufino's category was the Dragster category, which is a type of model car. Ferrufino's car style was a CO2 dragster: a miniature racing car that is propelled by a carbon dioxide cartridge.
He wanted his car to be as aerodynamic as possible so it would not have as much resistance on the track. Ferrufino will be attending Virginia Tech in the fall and is planning on joining the tech engineering program.
Joshua Masley is Ferrufino's teacher and also one of the main technology teachers at WS. He has had Ferrufino as a student for three years.
" [Masley] is one of my main influences for why I chose this career path, and he taught me everything I know," said Ferrufino.
A team from WS also competed in two state events that both made the top ten. The events were Biotechnology Design and On Demand Video; The team members were Lily Tso, Elisa Fritzsche, Samantha Cynn, Brian Bui, TJ Song, Mauricio Darcourt, and Walter Ferrufino.
At Technosphere, another name for states, Fairfax County Public Schools (FCPS) won the Lynn P. Barrier Outstanding School Division Award. The award is given to the school district in Virginia that won the most competitions; FCPS has 12 first place wins, out of 34 competitive events. Getting first place at regionals or states means FCPS will pay for registration at the next competition and possibly more funding.
"I would definitely recommend joining the club next year! There's so much to enjoy and so many great people to meet!" said Vice President of TSA, junior Elisa Fritzsche.