True Dedication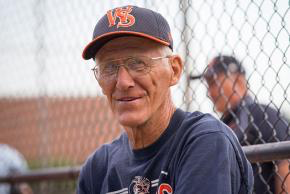 Jessica Kirby, Oracle Staff Writer
February 19, 2019
Hang on for a minute...we're trying to find some more stories you might like.
Many students know him as the old man that rides the tractor on the softball field. However, WS softball players know he is so much more than that. Bob Little, known as Mr. Little by the softball team, is a vital part of WS. Not only does he volunteer to maintain all of the athletic fields year round, but he is an extraordinary person who has left–and continues to leave–a substantial impact on the people of WS.
Little grew up in the farming community of Dresden, Ohio. They didn't offer baseball in his hometown, but he began coaching softball later in life. It was through the summer leagues that Little and current WS softball coach Robbie Benton connected.
"Mr. Benton and I worked together for a little while," said Little. "We each had teams, and when I retired from the government, he [Benton] was still coaching." He then began coaching at WS with Benton in 1988 and has been here ever since.
For 30 years, Little has been a jack of all trades. He is at the school every day helping out with everything he can, even while construction is being done on the softball field. He has practically dedicated his life to WS, and expects nothing in return.
"[Little] is a paid volunteer," said athletic director Andy Muir. "He gets a small statement that he doesn't necessarily want, but he does get a small amount that we try and give him each year."
Although his official role is a groundskeeper and maintenance person, Little goes above and beyond every chance he gets.
"Any time anything needs to get done, he's out there, and he normally gets it done before we think it needs to be done," said Muir. "If we ever have anything wrong with an engine or electrical problems with a tractor or something, he'll come back and he'll figure out what the issue is. Typically its a few dollars a part, but he saves hundreds of dollars in mechanics that we'd normally have to hire to do it."
Beyond a groundskeeper and handyman, Little is an assistant softball coach and makes a substantial impact on the players.
"[Mr. Little] is always motivating me to cheer on my teammates… no matter if we're losing or winning," said senior Danielle Parton, a varsity softball player.
"He just helps me not worry about the hard things in life," said junior Bridget Laychak, a varsity softball player.
In and out of school, Little is an exceptional person. During the offseason of high school softball, he attends both current and former players' games outside of WS. He is always around as a smiling face–the kind of person that will drop anything just to help out a friend.
"I was up in Ohio and a tree fell on my house," said Muir. "My wife called me all in a panic not knowing what to do. So I called Mr. Little, and a neighbor of mine came over with him. When I got back the next day, the tree had been cut up into logs and neatly stacked in the back garden. All the leaves had been picked up. He did all of that with another gentleman and didn't even think twice about saying 'I'll be over there in ten minutes.'"
As a reward for his exemplary efforts, Little was named Virginia Interscholastic Athletic Administrators Contributor of the Year in 2010, which is the highest recognition a volunteer can receive in the state of Virginia. The activities office even created the Bob Little Award in his honor, and he became the first recipient of it in 2013. It is clear that he puts his heart and soul into the softball program and the school as a whole.
"I just cherish each one of the teams as they come and the kids that are on it," said Little. "I kind of fall for all of [them]."
Although Bob Little is a man of few words, it is impossible to fully describe his impact he has on the lives of WS athletes and staff. Just as he has fallen for WS, WS has fallen for him.