Musical arts makes its return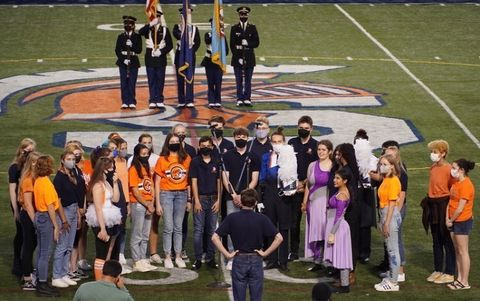 Music students have faced and overcame numerous unique challenges in the face of the pandemic, but in-person classes still aren't quite the same as before.
Orchestra, band, and choir are all centered around featuring their craft to an audience, and when you add a highly contagious virus to the equation, concerts and collaboration are subtracted. Each of these classes requires close teamwork in order to form a final cohesive musical piece. Not being able to harmonize and listen to each other play in real-time meant the loss of a crucial factor.
"We hardly were able to play as a class, and if we did try to play, it was very difficult," said junior Tatiana Mancilla, who plays the violin. "It was hard to produce a good tone and pitch through the computer and to commit to practicing a new piece."
Teachers had to shift their methods of teaching and administrating since traditional methods for testing and evaluating musical prowess could no longer be used. 
"We had to turn in our assignments through a platform called Smart Music or in Schoology. We had to use our laptops to record us playing scales for example, and turn it in that way," explained Mancilla.
The shortened time frame last year also meant cutting back on many activities that would have normally been included in the school year. 
"Mr. Brandt tried to keep as much of the [choir] curriculum in as he could, and he incorporated songs that we requested to sing, like an ABBA medley, but he did have to get creative and make new projects," said junior Elinor Maloney, who is a soprano singer. "Mr. Brandt worked hard to make sure that choir was still a fun, rewarding class."
Connection issues with technology were also another unforeseen challenge when it came to making music.
"We used Google Meet for the class and we mainly were muted the whole time. The most difficult thing while having to play music from across the screen was that the connection was horrible. Some people could not [even] find the folder with music in it," recounted senior Mana Roberts, who plays the trumpet. 
Now, as WS has transitioned back to complete in-person for this school year, music students can finally reunite with their beloved instruments and instructors in a group setting. The class experience this year still remains somewhat different from previous years with the addition of COVID-19 regulations. 
"I personally, and [most] people I assume, have had to modify how I sing, as you can't open your mouth all the way [with masks], and some masks suck in when you breathe. We have around half of the students using singing masks, although those hurt a little, so the other half are wearing their normal masks," explained Maloney. 
The experience is a bit different for marching band since they hold most of their events and performances outdoors where there aren't as many guidelines regarding COVID-19 safety. 
"We have playing masks and bell covers for instruments while inside. Other than those two things, there aren't many big changes. [It's mostly] the same as it was two years ago because we are not required to wear masks or use covers outside," said Roberts. 
Competitions and performances are slowly starting to ramp up, with marching band, choir, and orchestra in full swing with upcoming concerts/competitions. 
"Our first marching band competition was nerve-wracking because it was the first 'real' performance in uniforms for half of the band and [also] about two years since [the] last competition for the other half," said Roberts. "It was a bit hectic, but we pulled it off and it went great for our first time this season."
Choir also saw their first performance with the return of fall football and at Homecoming.
"The biggest part of preparing for the pep rally and football games has been focusing on the harmony and tones of our voices. Performing with the choir is generally always a bit of a rush, but it was a blast to perform for the school again," said Maloney. 
Orchestra also had their first concert as well, with a slight enhancement to the usual program. 
"I believe that there [was] a virtual stream that records the concerts so that relatives of a student will be able to watch it that way," said Mancilla. "[The first concert] felt really surreal since we haven't been on a stage with a crowd for a long time. My nervousness was eased by my group and director, and I felt exhilarated to perform."
For many music students, making music is their way of reconnecting with their classmates and themselves. It can also drastically improve mental well-being, so it is crucial that they have the proper setting and opportunities to fully participate in their hobbies. 
"I love that band makes me feel included [and] I am excited to finish out my final year of high school strong," expressed Roberts.