The Equity Team: WS staff and community strive for visibility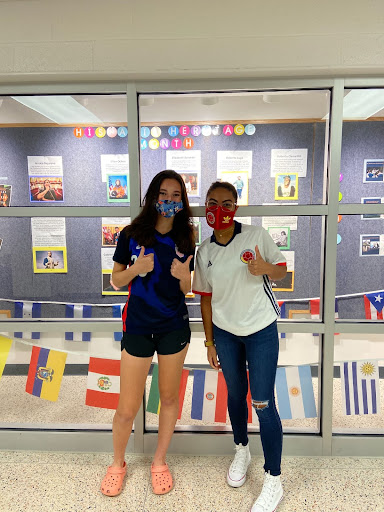 After a tumultuous couple of years that saw a global pandemic and an equally global social justice movement, WS has responded to the call of duty in the form of the new Equity Team.
The Equity Team at WS is a collaborative effort of staff, under the initiative of FCPS, to facilitate the inclusion, awareness, and celebration of the diversity of the WS population. So far, the team is composed of four Equity Leads — John Alukonis, Mirella Saldaña, Jana Biever, and Maeve Nash — as well as Malicia Braxton, Lia Bastos, and Cynthia Crisafulli. Together, this team strives to overcome the daunting oppressor that is inequality.
"The bottom line is I am a social worker," stated Crisafulli. "Kind of my purpose in being a social worker is to advocate for those who need it. Needless to say, there is so much injustice in this country, and we're just a microcosm of that; so when I see injustice happening, and when I see inequalities happening, I feel like it's my responsibility to step in and try to make that right."
FCPS has implemented equity training modules (courses specifically focused on the practice and understanding of equity) for all FCPS faculty for the past four years, with two modules per year. However, the social activism uproar following the murder of George Floyd led the county to require teams with the call to action to eliminate gaps in opportunities, access, and achievement for students.
With such a large and abstract concept to tackle, the team ran into some obstacles at first as they figured out how to approach inequality and visibility in the WS school community. 
"It's such a big picture, and it's hard to narrow down exactly what we can do now to make an impact because the problems are so vast sometimes," explained Biever, counselor for Gri-J. "There's injustice everywhere, but we have the responsibility to work on the places that we can impact, and we have the ability to impact [WS]." 
Equity polls administered online during LS4 at the beginning of the year helped with the process of narrowing down the scope of the issue, asking students and faculty to identify areas where they saw faults in equity. From these surveys, the team created specific interest committees that addressed the different areas where attention was needed.
American high schools were not always this transparent with societal issues: for Biever (class of 2010) and Crisafulli (class of '89), the simple idea of Equity Teams is a significant step forward from the past.
"I don't think we ever really talked about race, or gender, or sexuality, culture or anything besides what was taught in history," recalled Biever. "We had our clubs, and there were student-led initiatives, but nothing that I noticed came from admin or staff."
At the mention of history courses being the source of societal discussions, Crisafulli interjected with the observation that most history content has been "white-washed," highlighting just how much American public school has lacked diverse perspectives and representation.
"I think it's fantastic that FCPS has made equity a central focus, especially [considering] the last couple of years, " remarked Crisafulli. "Dr. Brabrand [FCPS Superintendent] has said [equity] needs to be the center of everything we do. That's huge. I've been in Fairfax County Public Schools for 20 years, and it's an enormous change from where we were 20 years ago, or even five years ago."
Visibility is the key focus for the team, especially as WS celebrates Hispanic Heritage Month. Physical displays in the hallways, morning announcements spotlighting notable Hispanic, Latinx contributors of different subject areas (nominated by the WS staff of those subjects) provide role models to celebrate and for Latinx students to identify with. However, the team wants more than just a month of appreciation and visibility.
"Being in the committee for celebrating heritage, [one of the goals] is making sure that it's a norm. Making sure that it's not, you know, 'an effort of' but is really something that we do as a norm as a school; [to have] more staff members, the school community, have the conversations that we need to and action after that," stated Saldaña, counselor for Br-Dax. "After we see the gaps, we have to do something about it."
The effort is much bigger than any one month or any one person, and the team exists for the very reason of perpetuity in the fight against inequality. The Equity Team is about the students and for the students.
"[We want] students to have the opportunity to have their voices heard, and not just heard but listened to and appreciated," noted Biever. "Taking what we hear from our students, hearing their feedback, and then turning that into action is invaluable. We have to do better with that, and I think we have a really great start here in pushing that forward to make that a norm–like Mrs. Saldaña said, not something we do occasionally, but something we do regularly."
Implementations of Student Equity Ambassador Leaders (SEALs) is one way the team is striving to involve student perspectives in their efforts. The SEALs applied for the position and were then chosen by Braxton to help advise and execute the team's efforts. So far, there are three SEALs: Keira Walker (sophomore representative), Jasmyn Rolison (junior representative), and Daniela Escobar-Chicas (senior representative).
The team's primary goal is to serve WS students and allow students of every background and academic path to be visible and supported.
"For me, my background is being an undocumented student," explained Saldaña. "[I had to learn] how to navigate everything that went with the school system–and career-wise, family-wise–how all of these responsibilities, that are not exactly what was portrayed in a graduate from the school system, would look like. Knowing that there may be students who identify as such, or have to navigate just the way that I have in the past, I know that there's work to do."
The Equity Team is always available as a resource to all students, especially those who feel overlooked, underrepresented, and invisible.
"It's always about the students," declared Crisafulli. " I want every student in this building to feel seen, valued, and validated on every level: in the curriculum, in the hallways, in the discipline practices, in the faculty, in every way. All of those things, every kid deserves to have that, and so that would be my golden goal for our committee is to help to make that happen."