The SASA: launching an accepting environment for South Asian Students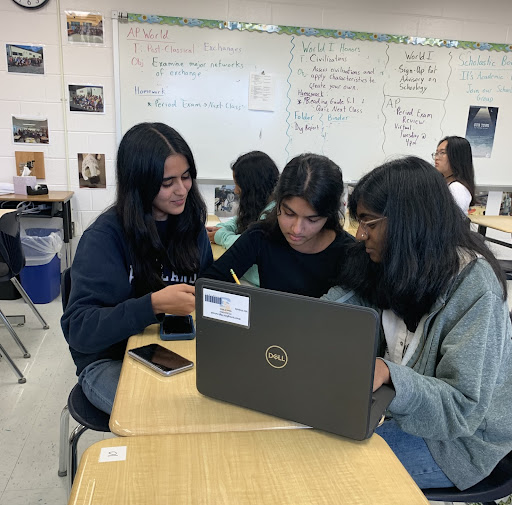 In many ways, the AASA and the SASA share similar intentions and plans for the school year. This year the AASA is looking to engage in more cultural activities to bring new and returning members closer together. They are also planning to offer volunteer service opportunities and fundraising events. The South Asian Student Association (SASA) will soon debut among the other cultural clubs. It is currently in the process of establishment and intends to help South Asian students become closer to their culture and history in fun and informative ways. 
"We wanted to create a space where South Asian students could meet up to discuss issues in the community, as well as embrace the multitude of cultures present in South Asia ," said SASA officer and junior Ishi Velpula. "We hope to regularly foster discussions about South Asian culture and specific issues in the community."
Asia is around twice the size of North America, consisting of 48 diverse countries. With each country having its own rich, fascinating culture, it became increasingly difficult to represent the whole continent under one umbrella in the Asian American Student Association (AASA). Concern regarding this issue was one of the SASA's main reasons for taking the initiative to create the club.
"The disappointing representation at international night last year proves just how vital this association is," said SASA officer and junior Saruyu Jidulludumudi. "There were so few people representing the different countries in the massive continent of Asia, and it was composed of only East [and South East] Asian countries. The minimal South Asian representation was only because of the Muslim Student Association. We refuse to stand by that, especially when this event was meant to celebrate minorities."
Though this is one instance, lacking representation is often a common experience for Asian Americans. The SASA's primary aspiration is to stop the constant generalization of the Asian community, as this often results in grouping a diverse diaspora into one box. They want South Asian students to feel comfortable in their own cultural identities without being confined by stereotypes.
"One singular club will obviously not be able to fully go in-depth with different cultures, [the] AASA has still done, and continues to do, a great job on running an important club, considering how challenging that may be, but [establishing the] SASA will allow [more] depth as it'll focus on South Asia specifically," said SASA officer and junior Hiba Khalid. "We hope to be able to collaborate with the AASA through various events as well."
"I believe that a South Asian Student Association would be a great idea. It would help create a stronger bond for South Asian students who may already be in AASA. Having more specific ethnic clubs can create stronger connections among smaller groups." said AASA co-president, junior Vivian Hoang. "While still participating in both clubs, club members can bond and interact with more events throughout the school year. [The] AASA would love to have merged meetings with [the] South Asian Student Association in the near future."
Hoping to meet twice monthly, the SASA officers have several activities and conversations  planned specifically for South Asian students. From movie nights to meetings about the significance of South Asia, the SASA aspires to aid students in finding a present and welcoming community.
"We will have cultural events open to everyone, from henna stands, Bollywood movie nights, holiday crafts, and ethnic food shares. Some meetings will be very chill, with us hanging out, with playlists of South Asian music contributed to by all, while sharing snacks and discussing events to be organized," said Jilludumudi. "It will be a safe space for anyone and a place of fun for all. I am excited for every bit of the club we are creating."