Senior Spotlight: Ethan Le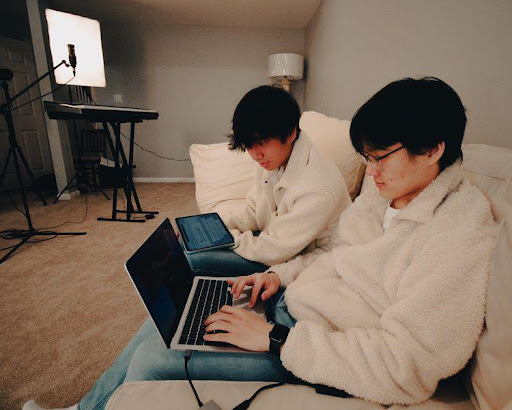 Schools are full of talented students in different areas. These can include art, photography, filmmaking, and many others. However, music production is where senior Ethan Le shines.
Although Le didn't always make music on his own, producing music was not an entirely new concept for him.
"I would say the end of sophomore year or beginning of senior year is when I started to veer into my own path of music. Up until that point, I was a classically trained musician through piano," said Le. "Later, I stopped taking lessons from my teacher and started going down my own path because I had ample amount of knowledge, training, and musical ability to start playing my own pieces without having the influence of a mentor."
Le's first big musical project was for a school final with a partner, who he still works with currently.
"In junior year, I had a physics final, and our task was to create an infomercial. My partner and I, senior Jeongmyeong Choi, decided to create a music video and it actually turned out somewhat well. We enjoyed the whole music making process like recording the vocal and instrumental tracks, editing, and even the planning of the cinematography."
Creating original songs isn't currently in the cards for Le, although he does like to play for fun.
"Right now we are only doing covers, I feel like creating my own music is not something I'm fully equipped for yet. It requires a lot of theory, as well as time to create decent lyrics and interesting melodies. We just have jam sessions and when we play together we usually do pop music or R&B, which is what we both enjoy."
While he played piano since he was younger, Le didn't start singing until before his physics final junior year. 
"Junior year I picked up singing because it would compliment my piano playing abilities, because piano and vocals sound good together. That led up to the physics project. By that time, I would say my voice was decently developed."
Le, with the help of Choi and others, continues to make music along with videos.
"We shot another music video again along with another one of the school photographers, senior Mitchell Moscoso. It involves a couple other individuals as well. We have our friend who does sound engineering to help us out with the mixing rather than Jeongmyeong having to do it, rather than my YouTube editor, we have our friend doing it this time. We had two shooting days, pre-planned outfits, we shot in different locations, and I even bought a $100 lighting kit to improve the production quality."
The music production process is something fun to go through, but Le sees it as nothing more. He does not want to pursue music as a career.
"Performing at wedding venues has crossed my mind before, but I'm not sure if it is something I'd be willing to do full time. Music for me has always been a hobby rather than a career path, but if my friend ever needs a performer I'd perform."
Le would not fully give up on the music world though, he would still continue to be open to continuing the activity for fun even after graduation.
"There is a chance though that it does gain traction through social media, YouTube and whatnot. And maybe we'll turn this into a yearly thing where we just do one music video for fun."
This coming semester Le plans to spend his time at the University of Virginia, majoring in computer science and possibly minoring in computer engineering.