Synchronized swimming sensation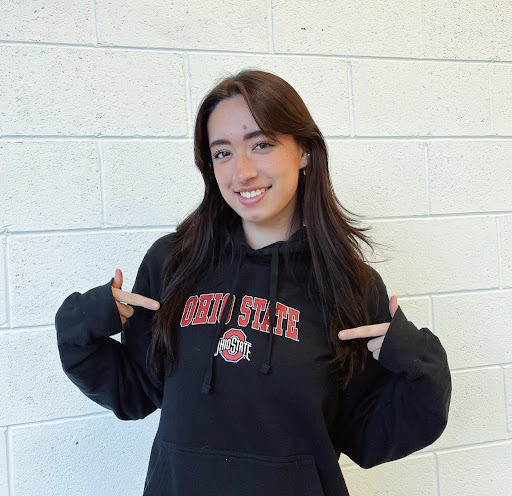 After graduating high school, Rikki Evans will become a collegiate student-athlete at her dream school, The Ohio State University. While at college, she will continue participating in quite a unique sport, synchronized swimming.
"I wanted to do rhythmic gymnastics originally, but my mom lied to me saying that they didn't have a club here. I ended up joining synchronized swimming and stuck with it. I think it was just because I was good at it," said Evans. 
Evans announced her commitment to The Ohio State University on March 7 of this year. This commitment will continue her academic career along with her synchronized swimming career. She has done this sport for nine years on two teams. Evans has quite a love for the sport and many accomplishments within it.
"I think my favorite part is that it's a team sport and you can also compete individually or as a duet," answered Evans.
Not everything came easy for Evans. Just like any athlete, some struggles come along with your sport. 
"I think understanding that synchronized swimming is the type of sport where you can't pick up easily and having patience is important if you want to see genuine growth and that even if the judging/sport is subjective, it doesn't mean you're a bad swimmer," stated Evans.
Evans began competing in synchronized swimming at the age of nine years old, making this her ninth consecutive year of being a loyal athlete to this sport. Throughout Evans' time on her two teams, she has had many memorable moments.
"I think my favorite memory was last summer's Junior Olympics when one of our swimmers couldn't come to the meet anymore at the very last minute and we had to fix our entire team routine. It ended up being our best meet of the season and we made finals for every event we entered," explained Evans.
Evans has had her eye on Ohio State for a while since it has the best synchronized swimming program in the nation. They have been the National Champions for two years in a row, but their 34th win throughout the team's program. 
"Since the seventh grade I've always wanted to swim for The Ohio State team, they were such a fierce team," said Evans.
The senior wasn't always sure whether to continue with the time-consuming sport, but when the opportunity arose, she had no other choice but to follow her long-lasting dream of swimming with OSU.
"I just wanted to move on with my life from synchronized swimming because it took so much of my time and just look forward to what the future held. But when the opportunity to swim for the Ohio State University team came, I was gonna take it," commented Evans.
Evans understands that being part of a collegiate team is very different from being on a club team, but she is excited to see how the two compare with each other. She also knows that the OSU team is known to have a family-like bond, so she is excited to be part of such a close team.
"I was really scared and stressed that I was gonna say the wrong things [during the recruiting process] but it helped that I've worked with the assistant coach a few times at national camps," she said.
Even after such a successful and memorable experience in such a unique sport, Evans does not plan to continue with the sport after college.
"I will fully cherish my time there on the team but after that, I plan on going to grad school," Evans continued.
Evans eventually wants to work in international affairs.