Dance team dazzles on World of Dance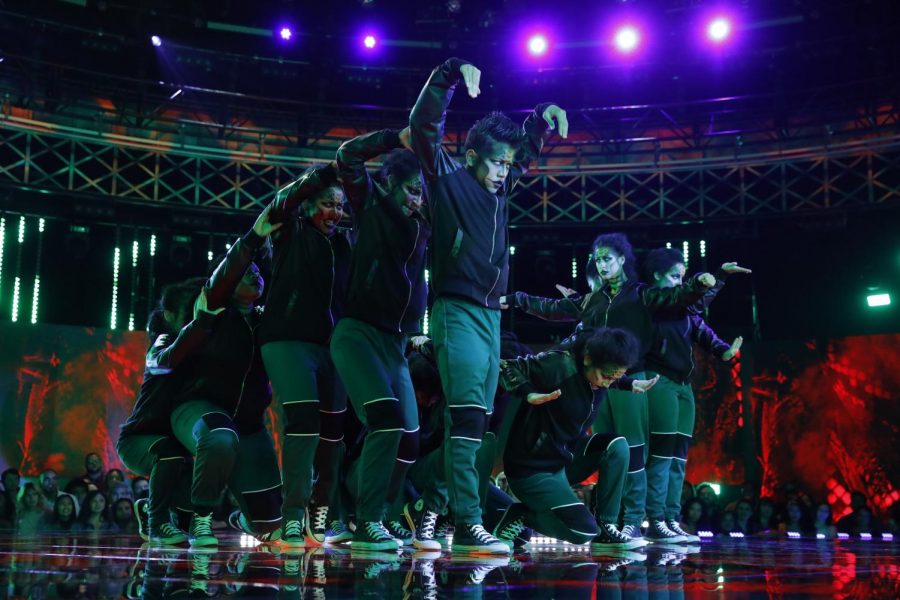 Helen Heaton, Oracle Editor
March 25, 2019
Clad in black and green, their silhouettes flickered before a backdrop of sliding, ruby-tinted snakes. But the WS Dance Team (WSDT) wasn't performing for a crowd of fellow Spartans–they were dancing for celebrity judges (and the entire country) as contestants on NBC's World of Dance (WOD).
On the show, dancers compete in various categories for a million-dollar prize. The judges–Jennifer Lopez, Derek Hough, and Ne-Yo–decide which performers advance between the show's various stages.
Yet while WOD premiered in late February, the team's television appearance was months in the making.
In spring 2018, they were called by WOD and asked to attend live callback auditions for the show–that were only two weeks away and held in New York City.
Initially, the team's coaches, Tara Perez and Jason King, were hesitant, both from a logistical standpoint and because they didn't feel a need to further pursue TV after WSDT's 2011 America's Got Talent appearance. However, after holding an emergency meeting with their dancers, they ultimately agreed to attend. Despite entering with low expectations, several months later the WSDT got the call–they were in.
"We couldn't even process what was happening," said Perez and King via email. "To put it into perspective: this is the Olympics of dance. WOD is the biggest dance competition in the world, where hundreds of thousands of acts audition and only a select few are hand-picked. After our initial freak out, the work began. At the time of the call, we had about a month and a half to get the team ready with two routines."
This was no easy feat.
"Our choreography–you can't just make it on the spot. It takes months and months of trial and error and testing," said senior and co-captain Victoria Huang. Every detail, from hand position to foot placement, must be taken into account.
The coaches ultimately developed a routine inspired by the snake-haired Greek monster Medusa.
However, their choreography went hand-in-hand with their choice of music–and choosing music was not easy. Television shows and networks have exacting criteria, and the process of selecting and approving songs is both lengthy and difficult.
"Something that people don't know is that our Qualifiers song had to change twice, and one of those times was a week before we left for Los Angeles," said Perez and King. "Meaning that the whole routine essentially had to be changed. Thus the need to add more practices to the already hectic and demanding schedule."
The team's dancers devoted themselves to the task.
"Once we got down there, it was all dance," said Huang. "We didn't think about anything else. All you thought about in your mind was dance, break, sleep, eat, dance. It's a cycle. We'd stay up late for hours."
Such hard work paid off when the team competed in the show's first round–an experience that was both nerve-wracking and exciting.
"It was amazing to be onstage–all the lights coming at you, the floor was glowing and moving. It was really cool," said junior and co-captain Cassady Welch.
Even the presence of celebrity judges was as exhilarating as it was nerve-wracking.
"It makes you really nervous, but you're also really excited. Because you're like, 'Wow, I'm here. People want to watch me dance, and I'm here to show them what I've got,'" said Huang.
Ultimately, the judges were impressed and allowed the team to advance to the next phase of the show. While the WSDT was proud to receive such recognition, its members found merely performing on the show to be an award in and of itself.
"After what seemed like a never-ending process with countless hours of practice, prep, setbacks and stress, seeing them on that stage for the first time made it all worth it. It was nothing short of unbelievable," said Perez and King. "Because you watch people on the show and it just seems like an unattainable and impossible thing, then when you see your team on it….chills…just chills."