WS theatre's Fall comedy 'Einstein's Brains' delights audiences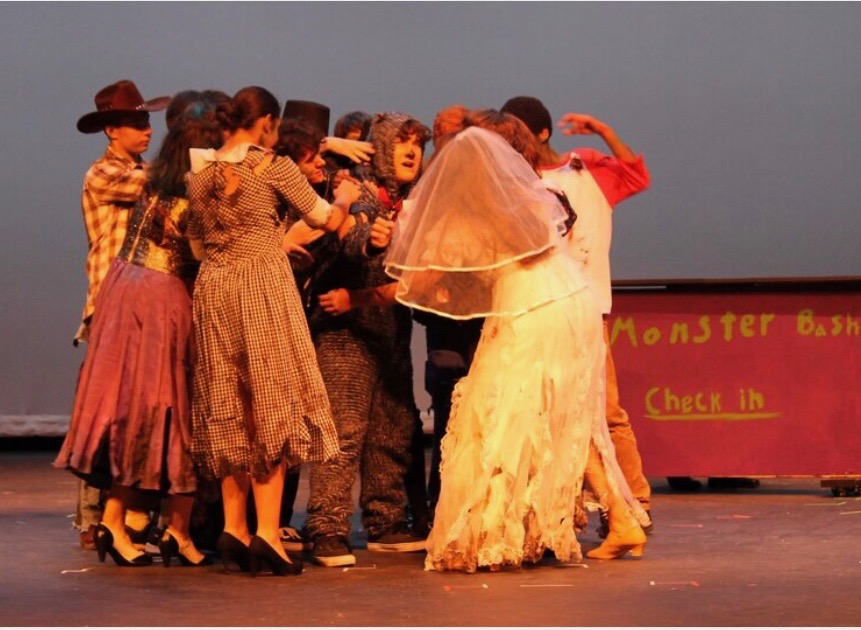 Elizabeth Thompson, Features Editor
November 13, 2019
In a play full of crazed doctors, zombies, and various talking body parts, it can be easy to get caught up in the imaginative comedy of it all. But underneath, the actors, designers, and managers lend their evil genius to create the brilliant madness witnessed on stage.
Einstein's Brains, this year's fall play, follows the journey of an untimely teenage pizza delivery boy named Otto and his talking dog Swamp Thing as they travel from Princeton, New Jersey, to San Francisco to deliver the alleged remains of Albert Einstein's brain to Burkley for scientific research. The story itself involves many comedic elements, mainly in the characters of Dr. Harvey, the screw-loosed scientist and keeper of Einstein's brains who sends Otto off on his quest to California, his rival Professor Kinkihorder, and the German-accented brains themselves.
"What [my mother's] been describing is there's this angry German man in her basement who's constantly yelling," said junior Charles Heinbaugh, Einstein's brain, of his practicing at home.
Other contributors to the performance expressed their similarly haunting preparation for the eye-catching visuals on stage.
"There's a movie called Monster House, and one of the settings [in the play] is the exterior of Dr. Harvey's house, and I took inspiration from that because it's just sort of crazy looking [and] dark outside," said set designer sophomore Trinity Green.
The hidden ingenuity of background elements can often pass right under the audience's noses. Some inner detailing to the background characters was incorporated to add to the spooky atmosphere and make each person's part his own.
"I had major fun with the zombies," said costume designer junior Alyx Strong. "Each zombie kind of came up with their own backstory which was fun because we just threw ideas at each other for what we wanted to do."
All these elements combined with weeks of rehearsal eventually led to the whimsical hilarity parents, teachers, and students lined up at the window to see. What they witnessed left them smiling past intermission.
"I enjoyed [professor Kinkihorder]," said sophomore Kiera Gilbert of her favorite character. "He was really funny, and he was cast great."
On stage is a different story, but by all means, no less exciting as actors slip on their costumes and conform to the various personas of their characters in an imaginative setting.
"I try to do what's described as the thread between your thoughts and your lines, so you try to think what your character is thinking. My dad says 90% of acting is reacting. [But] what I am thinking about is the most tangentially related thing possible. What happens is you've done these lines so many times that you just kind of say them; It's like a wind up monkey, you just start clapping," said Heinbaugh.
No performance, though, is immune to its mishaps whether it be a slight altering of lines, exceptionally long pauses, or prop malfunctions, but the professionalism comes in how those on stage and behind the scenes dealt with these minor surprises.
"I couldn't really understand them or hear what they were saying [in the musical number], so they could have done that better," said Gilbert.
Hours of devoting time and effort to the play has nevertheless aided in the development of the participants' journeys in perfecting their crafts. The unique touch of each member can be detected on the soft hues of painted scenery panels, the fake blood-stained fabric adorning a horde of zombies, the organized chaos of the wild storyline, and the comical voices of the actors that bring it to life.
"Most people just kind of get swept up in the magic of the show and see it all as one that they don't  think about the individual parts and how much time it takes and all the things that go into it," said Strong.