House to vote on Articles of Impeachment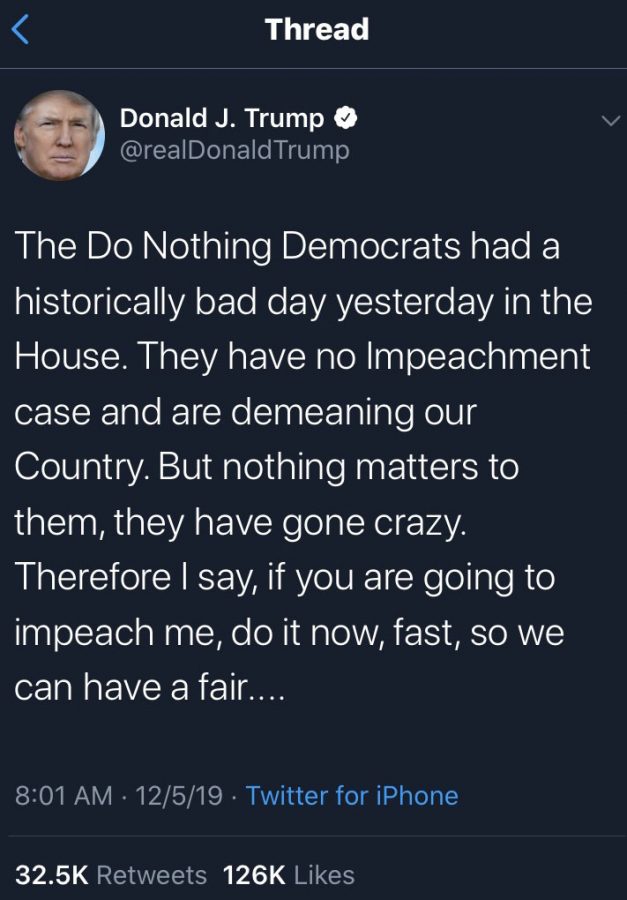 Amirah Sumrean and Connor Zimmerman, Editors-In-Chief
December 16, 2019
"…If you are going to impeach me, do it now, fast, so we can have a fair trial in the Senate, and so that our country can get back to business…"
This tweet, from President Donald Trump on December 5th, is a change in tone for an administration that refused to participate in any part of the impeachment inquiry up to this point, but the inquiry is over. On December 4th, House Speaker Nancy Pelosi gave the House Judiciary Committee the green light to start drafting Articles of Impeachment. 
Back in September, Pelosi announced that the House of Representatives would begin a formal impeachment inquiry into President Trump after an alleged abuse of power. The President stands accused of using US military aid to Ukraine as a gambit, during a July phone call with Ukranian Presdient Volodymyr Zelensky, to pressure Ukraine into investigating Democratic presidential candidate Joe Biden and his son, Hunter. Hunter Biden currently sits as a member on the board of Burisma, the largest private gas company in Ukraine, and was hired in 2013, while his father was Vice President.
The now infamous call between Trump and Zelensky sparked controversy as many felt it should be classified as a quid pro quo, the provision of a good or service, for which something is expected in return. 
Since the transcript of the call was released, it has become indisputable that Trump did in fact discuss US aid to Ukraine, and request investigations by Ukraine on the Bidens. However, the debate continues on whether or not he did in fact commit an impeachable offence during his conversation with Zelensky.
"I think he definitely did [commit an impeachable offence]. He has committed, and done so many things that should've been impeachable, but it's so late in his presidency that I don't think it'll go through," said freshman Skylar Buchholz. 
A large group of officials and other expert witnesses testified during the hearings. Some of the strongest testimonies were provided by non-partisan officials like Ambassador to Ukraine, Bill Taylor, and Ambassador to the EU, Gordon Sondland.
"Again, our holding up of security assistance that would go to a country that is fighting aggression from Russia for no good policy reason, no good substantive reason, no good national security reason is wrong," said Taylor, during a November 13th hearing.
On December 10th, the House Judiciary Committee released an official Articles of Impeachment, with a plan to vote on it in the full chamber by the end of the week. President Trump is charged with abusing presidential power and obstructing Congress.
"Unlike President Trump, we understand that our duty, first and foremost, is to protect the Constitution and to protect the interests of the American people," said Judiciary Chairman Jerrold Nadler on December 10th, "That is why we must take this solemn step today."
While the committee has made it clear that impeachment is in the interest of defending the Constitution, it is a given that some partisanship will find its way into the investigation.
"The impeachment is based on his actions that were unconstitutional, but it's inevitable that it is political, because of the nature of Congress," said senior Noah Plott.
If the Articles of Impeachment pass a House vote, President Trump will be the first President tried in the Senate since Clinton, and he would be the first removed from office if convicted. At the twilight of Trump's term, it is a race for the investigation to find if he committed a high crime or a misdemeanor.
"There's worse things he's done, so I don't think this will get him removed from office," said Plott, "It's kinda late at this point, but give it a shot, it's worth a try."