Leadership classes and SGA work tirelessly to make Homecoming perfect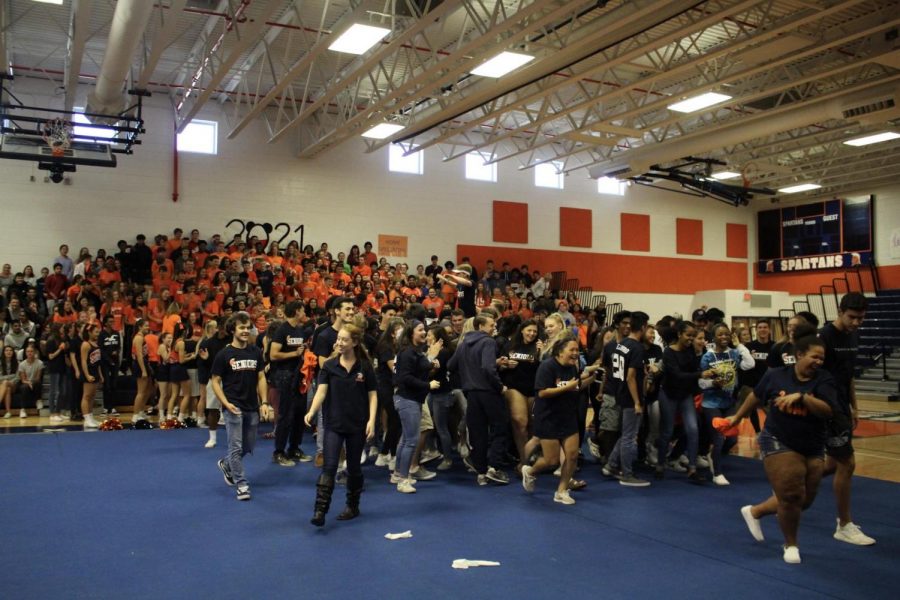 Rachel St. Pierre, Scoop Editor
November 13, 2019
Homecoming is arguably the best time of the year. With a week stacked full of activities and school spirit at its peak, Homecoming is one of the most exciting and enjoyable times at WS. However, none of this would be possible without all the behind the scenes hard work of SGA organizer Samantha Jonsson and the leadership classes who help make the whole ordeal possible.
WS Leadership worked tirelessly to plan, organize, and run Homecoming events such as powderpuff, the dance itself, hallway decorating, the pep rally, the pep dismissal, the Homecoming court halftime presentation, the parade, the tailgate, designing the tickets alongside selling them, and leadership even took part in cleaning up after the dance Saturday night. Due to the plethora of tasks in such little time, Jonsson made sure to create ample measures to get everything done.
"Between my two leadership classes, they are split into committees for each event. We have a committee for each one. We generally assign the groups based on what they want to do and they usually determine that based on their strengths. A lot of our students that are more creative or artistically driven will want to do the decorations because they get to come up with their own ideas," said Jonsson.
While Homecoming and all of its events only last a week in duration, the time spent in preparation as well as the effort put in greatly exceeds those measures.
"Once they are in their committees, they spend many weeks leading up to Homecoming doing all of the planning for each event. They start by coming up with a checklist of everything that needs to be one, usually reaching out to staff members or different community members and other students to help coordinate things for their event. They have to submit requests for purchase orders, make shopping lists, and the committee members have to be at the event to help set up, run it, and clean the event," said Jonsson.
Due to all of the hard work from Jonsson and the WS Leadership classes, Homecoming 2019 was a complete success.
"I think each committee tried something different, whether it was changing things up from years past or adding something new this year, and I think all of the events were some of the best they have been in quite awhile. I think the most impressive thing was that they tried something different and tried to make it not quite the same as it has been in years past," said Jonsson.