Corpse Bride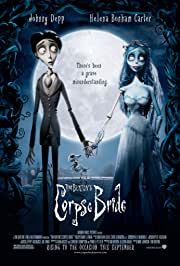 Here comes the Bride! Tim Burton's 2005 Corpse Bride is far from the average horror, Halloween movie. It is a heartwarming tale of lost love and the journey to regain it. Burton never disappoints and this is another notch on his belt for outstanding, wacky movies. With the superior casting choice and visually pleasing, physical stop motion filming, this movie is a must-watch Halloween classic.
With the well-known acting duo, Johnny Depp as Victor and Helena Bonham Carter as Emily the Corpse Bride, the roles were simply meant to be. Both actors are popular for their out-of-the-ordinary casting and have an upstanding reputation alongside director Tim Burton. 
Burton's take on character elements perfectly highlight their role in the movie. Emily, The Corpse Bride, is pictured as a needy and almost lonely character. This makes her dependency on Victor, the main character, thicken the love triangle the movie is based around. The destined lovers, betrothed to marry for their parents, Victor and Victoria, show significant chemistry and the picture-perfect love story everyone wishes to have. Victoria is a prime example of a persevering woman that is not afraid to fight for her truth in the Victorian times where the movie takes place. 
The visual aspects of the film incorporate many contrasting elements, making it very satisfying to the eye. The drab, overcast scene with muted, deathly tones for the land of the living, and the vibrant and visual comparison for the land of the dead, gives this movie an interesting spin on the typical take of life and death, almost persuading the audience that death is better than that of the living.
This unique Halloween movie is the perfect change of pace from the average horror movie but still maintains that spooky-esque aspect that all Halloween junkies crave.