Chocolate crackle cookies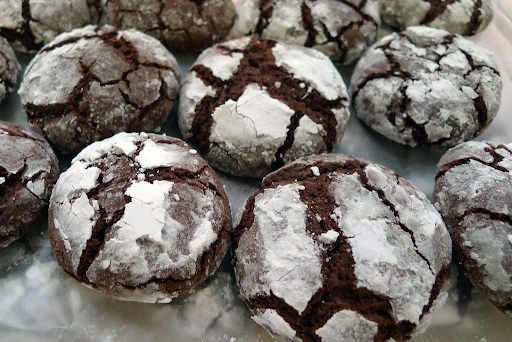 3 cups semisweet chocolate morsels

3 cups packed light brown sugar

1 cup vegetable oil

6 large eggs, at room temperature

½ tablespoon vanilla extract

3 cups flour

1 tablespoon baking powder

1 tablespoon salt

1 ½  cups walnut pieces, toasted (see NOTE)

⅓ cup confectioners' sugar for rolling
Steps
Place about 2 inches of water in a large saucepan over medium heat. Combine the chocolate, brown sugar, and oil in a heatproof bowl wide enough to sit over the opening of the saucepan. Melt the mixture, stirring occasionally, then remove from the heat. Stir in the eggs and vanilla extract, mixing well until incorporated.

Combine the flour, baking powder and salt on a piece of wax paper or parchment paper. Gradually add to the bowl, stirring, then add the walnut pieces. Cover and refrigerate overnight.

The next day, preheat the oven to 325 degrees. Line 2 baking sheets with silicone liners or parchment paper. Spread the confectioners' sugar in a wide shallow bowl, or in a resealable plastic food storage bag.

Scoop the dough into small balls; drop them into the confectioners' sugar and gently roll to coat evenly. Arrange on the baking sheet spaced about 2 inches apart. Use your hand to flatten them slightly. Bake one sheet at a time for 12 to 15 minutes; the cookies will be soft and appear slightly cracked. (Do not overbake, or the cookies will become too crunchy once they have cooled.) Allow the cookies to cool completely before serving or storing. Repeat to use all the dough.

NOTE: Toast the walnuts in a dry skillet over medium heat for 4 to 5 minutes, until fragrant. Let cool before using.
Author's comment:  My parents love the Washington Post and this recipe was cut straight out of the Lifestyle section years ago. Part of the tradition of these cookies is my father making an obscenely large amount and then giving them away to neighbors, teachers, and family members.