It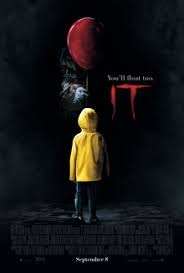 Based on Stephen King's 1986 novel by the same name, "It" (2017) is a spine chilling horror movie following preteens living in Derry, Maine, and their experiences with Pennywise the Clown. "It" is a fun and frightening story, with amazing characters, good cinematography and a captivating storyline, which all come together to make an exciting watch. 
One of the factors that make the film such an entertaining watch are the enthralling characters and the actors that play them. One highlight is Beverly Marsh, played by Sophia Lillis. Beverly is a strong young woman, who keeps a lot of her struggles to herself. Lillis captures Beverly's spirit and strength very well, and makes her an easy character to root for. 
Another highlight is Richie Toizer. Richie Toizer is played by a young Finn Wolfhard, who is most known for his portrayal of Michael Wheeler in "Stranger Things." Richie Toizier is the comic relief character, with a trash mouth that gets him into trouble. He adds a lot of fun to the band of misfits, and is a fascinating character. 
The storyline of "It" is what makes it a really enjoyable film. The storyline focuses around kids, which automatically captivates most viewers to the story, as it is much more amusing to watch kids solve problems than adults in my opinion. The concepts portrayed throughout the movie could be compared to a very similar show, "Stranger Things," which likewise presents ominous scenes and engaged actors. Although, there are some problems with the pacing that may make the movie harder for some viewers to watch. The movie flips back and forth between more light-hearted scenes and quickly back to intense, terrorizing ones. The jarring flips may make the storyline harder for some viewers to follow, and therefore may turn some people away from the movie, although this small issue does not prevent the film from being a fantastic movie. 
"It" is a perfect movie for anyone wanting fear and fun this Halloween, and it is highly recommended, with captivating characters, and an interesting storyline.