Clemson rolls the Tide in championship game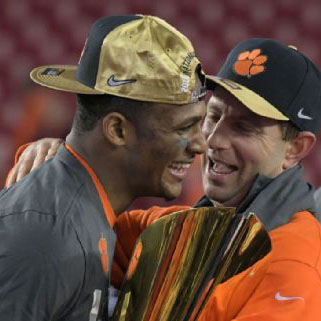 Miguel Terrazas, Sports Editor
February 7, 2017
Hang on for a minute...we're trying to find some more stories you might like.
Scoring 21 points in the fourth quarter, Clemson University rolled the University of Alabama's Crimson Tide 35-31 in the national championship game.
Even though Alabama didn't budge from first place for weeks, the matchup came down to the wire. But then Ohio State was blanked by Clemson, and Washington went down in flames to Alabama, setting up a rematch in the national championship, played in Dallas in early January.
On December 3rd, Alabama routed the Florida Gators in a 54-16 blowout for the SEC championship, which locked their top spot for the playoffs. Alabama delivered on all aspects Saturday night, proving why they are the top team in the nation.
"I think it's been their ability to score not on offense," said senior Zach Davis. "They've had that streak where it's been eight or nine games where they had a non-offensive touchdown in a game, whether it be a pick-six or a fumble return for a TD."
Meanwhile over in Florida, Clemson faced a rather tough battle against Virginia Tech for the ACC championship. They were able hang on for a 42-35 win and being able to clinch that third playoff spot. Deshaun Watson showed out that night, scoring a whopping 5 TDs against a rather tough Virginia Tech defense.
"Deshaun Watson is the most valuable player," said sophomore Haleigh Morris, "and he has come so far in his years of playing for Clemson."
Clemson found itself in a similar positon as last year. They were not only one of the top four seeds, they are now back-to-back ACC champions, a rather impressive feat. And yes, there was a rematch of last year's national championship game?
"Personally, I don't think we can get that far," said Morris before the big game. "If we do make it, that'd be great, however, if the same thing happens to us like it did last year, I think Dabo Swiney might need to work on his team a little more for next year."
Over in Columbus, Ohio State got a well deserved rest after beating Michigan in a thrilling double overtime game, securing their spot at number two. This contest was dubbed "The Game" by many followers, and can be considered one of the best rivalries there is to date. After the loss, Michigan was knocked out of the running for the national championship, and they now reside in 6th place.
"I think they'll do all right, it really just depends on if they can use the momentum," said senior Andrew Bonavita, "because that was a big win against Michigan, and they're a really good team. So I think if they can keep the momentum going from that, then they can do well."
All of the odds were in Alabama's favor for the national championship game, with them leading 14-7 at the half. Deshaun Watson had other plans in mind after leading a satisfying comeback against the Tide, and was able to score the game winner from the two- yard line with just two seconds to go.
Clemsoon played Alabama in what is now considered to be an instant classic for college football fans. Once it's all said and done, this was a rather satisfying finish for fans.