The Ocho: Poohsticks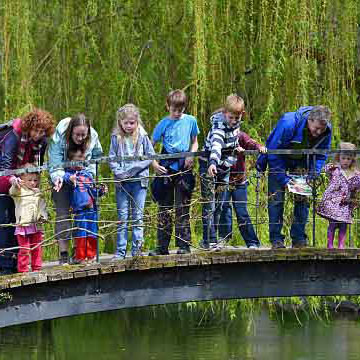 Kyle Bethea, Oracle Staff Writer
February 22, 2017
Hang on for a minute...we're trying to find some more stories you might like.
Poohsticks is a game revolutionized by everyone's favorite child hood cartoon show, movie and book, Winnie the Pooh.
The sport of Poohsticks was first invented after the game was played in the book Winnie the Pooh. Pooh accidently dropped a fur cone into the river and being the curious bear he is, he happened to notice when he dropped it in the river the cone came out on the other side.
Pooh being astonished on how that could be, he marched back to the forest to retrieve another stick to test if it would happen again. Hence, Poohsticks was created.
Poohsticks is a game you play with multiple people where you drop a stick or cone into a stream next to a bridge where the water is running down stream. Then follow the stick or cone and wait to see which cone or stick appears under the bridge first.
"I've never played Poohsticks but if I was younger I would participate in this game with my cousin during the summer." Said junior Steven Roscoe
Although Poohsticks is not as popular as it used to be the game is making a strong comeback thanks to the National World of Poohsticks Championships.
The National World of Poohsticks Championships is a tournament played where teams register to compete.
There is a maximum four player per team limit or you can compete individually. The event is organized by the Rotary Club of Oxford who then take all the money raised and give it back to charities.
Last year's team who won Hundred Acre Edwards – Ben, Fleur, Alex Edwards and Megan Harrison from Whitney.
"Poohsticks seems like a very fun game for children, however, I've never participated but if I ever did participate, I would surely be ecstatic because I am a huge fan of Winnie the Pooh." said junior Amina Siddiqui.
Since the creation of Poohsticks, the game has continually increased to become popular and a world known game.
Poohsticks is not as famous as basketball or any other professional sport, but it has a strong supportive fan base and is a fun summer/spring game to play. It's a game the family and kids will enjoy while exploring or viewing nature.
"I always watched Winnie the pooh growing up so to find out that there is a game called Poohsticks that was created from Winnie the Pooh amazes me and makes me want to go out and play the game," said junior Heidi Ahmed.