All-Star game moves to NOLA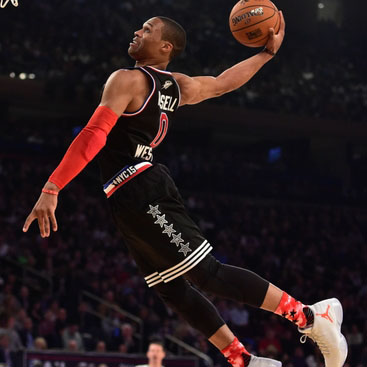 Adam Golub, Oracle Staff Writer
April 18, 2017
Hang on for a minute...we're trying to find some more stories you might like.
An annual tradition in the NBA, the All-Star Weekend never seems to disappoint. The league's best players compete in various activities such as a slam dunk contest, a three point contest, and a skills obstacle course.
"I'm excited for the dunk contest since it has an explosive atmosphere and is a good way to show off skills of the younger players," said senior Iliass Elgarh.
Recently, the dunk contest has attracted this type of atmosphere. Third year player for the Orlando Magic Aaron Gordon, and Phoenix Suns rookie Derrick Jones Jr. may be some of the NBA's youngest, but they have an exciting presence on the court.
In addition to the dunk contest, the three-point contest has become increasingly popular the last couple of years.
"The three point contest is going to be great since well-known players will be competing in them," said senior Kipper Whitley.
This year, the three-point contest is the most anticipated event. The league's most elite players, such as Kyrie Irving and Klay Thompson, are participating. It is also rumored that a fund raiser for the late Craig Sager will be held by having celebrities shoot threes each worth thousands of dollars.
This year's All-Star Game premiers the NBA's most elite players. However, the league's arguably most elite player, Russell Westbrook, was unable to get a starting spot in the game.
"Russell Westbrook definitely got snubbed this year since he averages a triple double and is better than any All-Star starter," said WS alumni Muhammad Ommer.
Giannis Antetokounmpo is a fan favorite who will have the opportunity to start with LeBron James, Kyrie Irving, DeMar DeRozan, and Jimmy "Buckets" Butler to represent the Eastern Conference.
"Keep an eye out for the Bucks' Giannis Antetokounmpo due to his speed and crazy vertical," said Ommer.
Aside from the basketball aspect of All-Star Weekend, a much more serious issue concerning the location of the weekend was brought to the public's attention. Before the NBA season began, the location of this weekend of spectacles has been moved from Charlotte to New Orleans. This was due to North Carolina's controversial trans gender bathroom law. Regardless, fans seem to take an exhilarating interest in New Orleans due to the success in the city from the 2014 All-Star weekend.
All-Star weekend was, as always, a huge success for the NBA. Many fans tuned in to watch their favorite players, and the Western Conference beat the Eastern Conference 192-182 in the All-Star Game.
"As an NBA fan, I would want more viewers and increased interest, and NOLA (New Orleans, Louisiana) is definitely amongst the best places to have All-Star Weekend," said Elgarh.