Boys' XC takes second
XC ran a long road training for States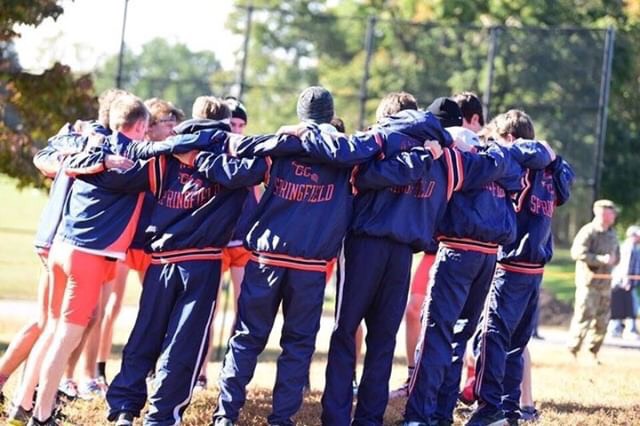 Mike Damiano and Zach Thomson, Sports Editor and Viewpoint Assistant Editor
November 29, 2018
They won Districts and Regionals, and placed second at States. The varsity boys' cross-country (XC) team finished their season with an exceptional performance that will surely be remembered.
The boys finished second in States this November and were very proud of their placement, and their experience at the meet.
"It was good, and we were very proud in general of our improvement," said Junior Sam Pritchard.
Pritchard finished in an impressive 3rd place at the meet, and was very content with his race.
"I was very shocked and very happy with [the race], and it was a very good day and very good race.
During the race, the conditions of the meet as well had a great effect effect on the runners and how they performed at States.
"It was miserable, and it was like anything you don't want on a fast course. It was very muddy, very windy, and very cold, but we were able to tough through it," said Pritchard.
With the boys' success, however, came a great deal of effort and continuous practice from both the regular and postseason team.
The XC team's unofficial practices started all the way back in early July, and began the road to states in August. The offseason practices were just as rigorous as the normal season.
"Practices in August were harder than normal because of the heat. To prepare for a successful season, we had to start early," said sophomore Chip Tragakis.
Like many other fall sports, XC started practicing in August to get the runners in shape and prepared for the season. These early practices helped jumpstart the team and ensured that they were more than prepared for the season.
As the regular season began they continued practicing just as hard.
"First we start with warmups, which are dynamic stretches. Coach will talk with us about current events, and he'll give us a short and a long option [for practice]. They're very intensive. We'll do a run and after that we go to the weight room, and then we'll call it a day," said sophomore Ian Reese.
For the majority of the team, the run  is the hardest part of the practice and where they see the most improvement.
With the XC boy's continuous hard work and practice, the team led a fantastic postseason and started early for the best result.
"I would say the runs are the hardest thing we have to do. They range from 3 to 5 miles at least on the short option, regardless of temperature," said Reese.
Now, upon the end result of the season, the boys shared an overall positive view of the season and how they could improve for next season.
"The guys returning next year know that there's more work to be done but for now we're proud.