The teams who travel together, stays together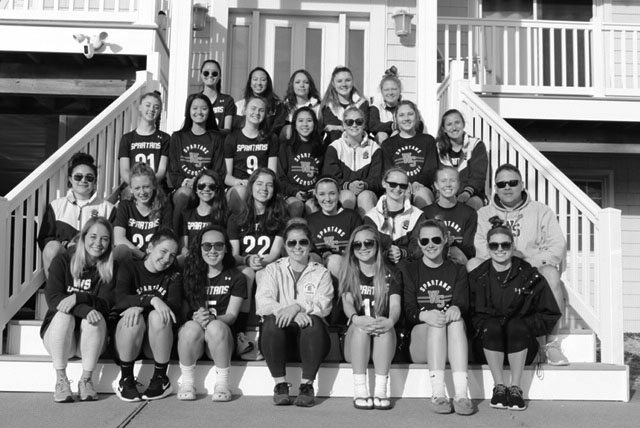 Mike Diamano and Zach Thompson, Sports Assistant Editor and Viewpoint Assistant Editor
April 24, 2019
It's a cool 70 degrees with a chill breeze in the air. The smell of ocean salt rises as the charter buses get closer and closer to their destination. Spring sports trips are underway.
With the arrival of the spring sports season, one of the most anticipated parts of the various teams are the spring trips. Many teams at sometime during the season takes a trip to have fun and take a break from the stress at home. However, for the sports teams, their grind does not stop.
The spring sports teams take these trips to have an experience to play different teams, from different divisions and skill levels. While on the trips they also get a chance to have fun with their teammates.
WS Girls Lacrosse recently went to Virginia Beach for their spring trip. The girls went to hang out on the beach and practice for their main game against Bishop Sullivan Private school.
"We all stayed in a beach house that was across the street from the beach. First day there we had practice, and then went back to the house for a little beach time. The next day we had a game, went back to the beach, and then went out to dinner with a boat ride," said junior manager Jazmine Guevara.
The girls won their game, and trained hard for the challenge they took on, practicing the day before on their trip. For them it was a great experience and good team bonding opportunity.
"My favorite part was chilling in the house and winning our game in a hard fought battle to Bishop Sullivan High School," said junior Ainsley Buckner.
Next, the WS Baseball team is going to Charleston, South Carolina. The baseball team typically plays harder and higher ranked teams as a challenge, they will be playing in a tournament style where they play progressively harder teams after victories.
"We're going to be spending time as a team, getting ready for games and having a good time while we're down there," said sophomore Lucas Sorenson.
The WS Spring Boys and Girls Track teams are going to Philadelphia, Pennsylvania to compete against high school level teams from other areas for a new challenge.
"We will be competing in a high level meet against very skilled teams from America and Jamaica in relay events," said junior Jake Adams.
Finally, the WS Softball team is going to Myrtle Beach for a spring trip to play in a tournament like the baseball team.
"Ultimately our long term goal is to make it as far as possible in the playoffs, and in Myrtle we play about 4 games," said junior Carrie Morrison.
The girls are also hoping to achieve a win while at Myrtle, and have fun while doing it.
"As a team our goal is to win the tournament. We won it two years ago so it would be awesome to do it again.