Sports teams and leagues support the BLM movement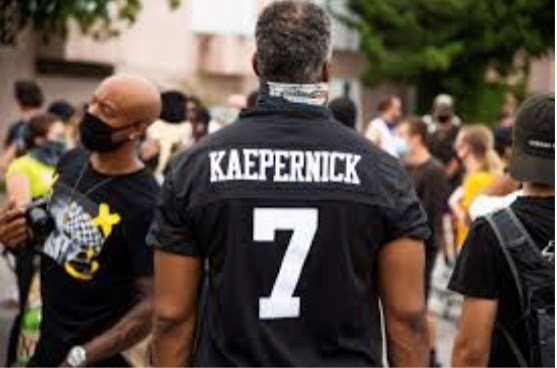 Police brutality is an issue that has been in the media for a while now. People have been  taking a stand on this matter through social media and through protests. Influencers are also using their platforms to spread awareness and talk about the issue. Different sports teams and leagues have also taken the advantage of their big platforms to vocalize their opinions on this subject.
One way many sports are showing support is by altering their jerseys. The Premier League teams released a statement saying that all players will wear BLM jerseys with  "Black lives matter" replacing their last names for the first 12 matches of their restarted season. 
Similarly, the NBA gave their players a list of 29 different messages to choose from to put on the back of their jerseys. Some of the messages included "Black Lives Matter," "Say Her Name," "I Can't Breathe," "Justice," "Peace," and "Equality." The NBA also printed "Black Lives Matter" in block lettering on their courts. 
To show their support for the movement, the Washington Nationals and The New York Yankees kneeled and held a long piece of black fabric before the opening game of the MLB season. MLB also stenciled the letters "BLM" onto the back of their mounds and gave the option for players to wear a patch saying "Black Lives Matter" or "United for Change."
In response to the recent police shooting of Jacob Blake, the NBA's Milwaukee Bucks boycotted game five of their first round playoff matchup with the Orlando Magic. The NBA followed suit by postponing the remainder of their games scheduled for the next several days. Los Angeles Lakers' all-star and civil rights activist Lebron James took to Twitter saying, "WE DEMAND CHANGE. SICK OF IT."
Tennis player Naomi Osaka used her platform to bring awareness to BLM by wearing masks with the names of different black victims of police brutality She wore seven masks to each of her matches in the U.S. Open's singles tournament that included the names of Breonna Taylor, Elijah McClain, Ahmaud Arbery, Tryavon Martin, George Floyd, Philando Castile, and Tamir Rice. 
When asked what message she was trying to send by wearing the masks, Osaka told the U.S. Open reporters, "Well, what was the message you got is more the question. I feel like the point is to make people start talking."
These players, teams, and leagues are taking advantage of their platform and using it to speak up and bring attention to this situation. Sports players have a very big fan base spreading from almost all ages. The things they decide to talk about matter because they have so many people looking up to them. Even something as subtle as wearing the letters BLM on their jerseys can help more people to start talking about the issue of police brutality.