Lakers win 2020 NBA title – a late homage to Kobe Bryant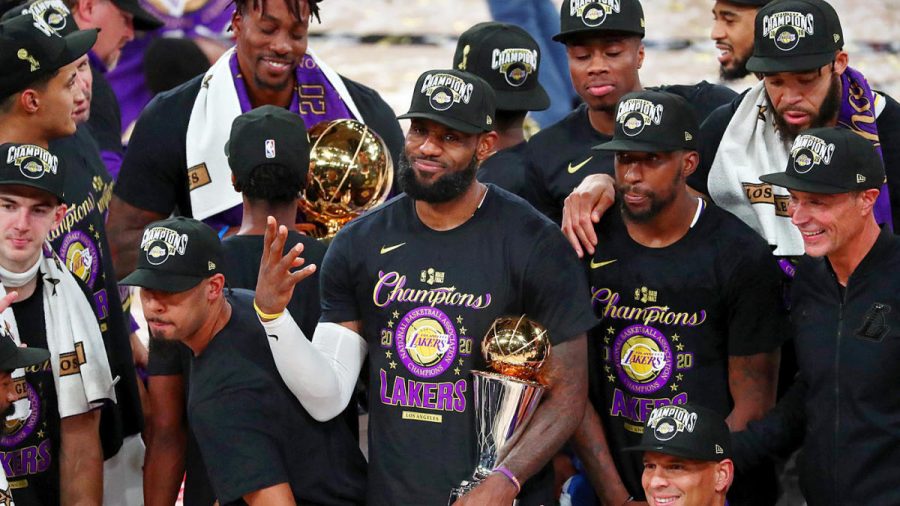 Mike Damiano, Head Editor
October 23, 2020
The bubble had finally come to a close – and the champions celebrated the night away. Of course this was no other event than the 2020 NBA Finals, Lebron James and the Los Angeles Lakers against Jimmy Butler and the Miami Heat.
Despite facing an early two-game deficit stemming from two 30-point performances by Lakers' forward Anthony Davis, the Heat didn't stand down – securing games three and five with Miami forward Jimmy Butler dropping 40 and 35 point triple doubles, respectively. However, Miami's underdog heroics were not enough to dethrone the King, Lebron James – securing a game six Lakers win over the Heat, finishing averaging nearly 30 points, 12 rebounds, and 8 and a half assists across the series. 
This year's victory marks the Lakers' 17th franchise title, tying the Boston Celtics for the most  in NBA history. James not only won the title for Los Angeles, but also won his fourth Finals MVP award, making him the only player in NBA History to win three Finals MVPs with three separate teams (2012 and 2013 Miami, 2016 Cleveland, and 2020 Los Angeles). 
Across the many years and Finals in NBA history, this year's title could mean more than ever before – considering the road Lebron James and the Lakers traveled to get to the Finals. Following a near collapse of a season in 2019 for the Lakers, Lebron James was coming off of an injury that kept him out of the playoffs, and had to face the reigning champion and two time finals MVP Kawhi Leonard. On March 11th, commissioner Adam Silver and the NBA made the proactive decision to completely shut down the league due to the Covid-19 pandemic, with only hopes of eventually finishing the season. After a four month hiatus, the NBA finally resumed its season in the Orlando bubble starting on July 22nd.
Players were subject to near isolation for almost three months in the bubble, striving to stay focused on their game. Some players opened up about mental health struggles while playing in the bubble, and shared their thoughts on the hardship of the 2020 season. 
Not only to mention the impact of the Coronavirus on this year's NBA season, Lakers' five time NBA champion and league icon Kobe Bryant tragically died in a helicopter crash on January 26nd, 2020. Kobe's impact on the NBA is hard to compartmentalize in any form – forever changing the game with his legacy. To the Lakers' fan base alone, Kobe was a model for many people growing up, changing the way Los Angeles and the entire world would remember the game of basketball. 
Following Kobe's passing, Lebron James told the world that this season was for Kobe Bryant – and that he would bring the title back to LA. Of the numerous tragic events occurring across this year, the Lakers' 2020 title brings a ray of positivity and memorabilia on the world of sports – and pays homage to the great Kobe Bryant.