Is our school safe? Construction worries Spartans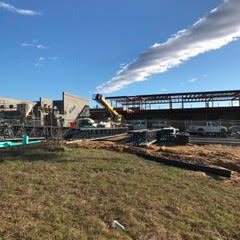 Caroline Wittich, Page One Editor
June 6, 2017
Hang on for a minute...we're trying to find some more stories you might like.
Spartans at WS have all experienced the construction and recognizes that it is a big inconvenience, but beyond that, the condition of the school poses a serious threat to the health and well-being of anyone who enters.
Everywhere you look in this construction populated "school," something is being torn down, built up, or dug into. The thing is, we can deal with that. Inconveniences like giant holes in the ground and random fence blockades can be excused and alternate routes can be created. The equipment is what is worrisome.
Ever wonder why all of the construction workers and overseers wear construction hats and protective glasses…But students and teachers do not? Because I wonder that every time there is a loud BANG and the ground shakes.
Most of the time all of this is tolerable, after all we are getting a brand new school and new school facilities when it is all over.
When walking in the vicinity, however, there are some clear imminent dangers that have simple solutions such as the giant holes causing injuries; those could be prevented with some gravel poured in. It is little problems like this that are easily preventable, but are not often taken care of.
The dangers of WS construction become all too clear during what is supposed to be a peaceful walk to lunch. I guess construction workers have no mercy on the eyes, ears, and nerve ending of students because that jack hammer did not stop hammering for one second to let the lunch mob pass. Debris was flying and the ground felt like an earthquake was hitting the area.
Sure, it is difficult to stop work every time a student passes a construction epicenter, but a group of hungry teenagers should not be put in harm's way.
The senior lot is more than 50% blocked off with fences that protect the crane, which many of us have a "love-hate" relationship with. Walking around that endless fence really isn't that big of an issue; if anything it encourages exercise. The problem is the giant wrecking ball and the attached hook that flails around in the sky carrying giant unstable beams of steel.
Walking to school one foggy morning, the top of the infamous "West Springfield Crane" could not be seen; until, of course, I looked up and the giant wrecking ball was looming directly above me.
The only logical way to deal with the dangers of this school is the following proposal: life insurance should come automatically with enrollment.