Students split over learning environments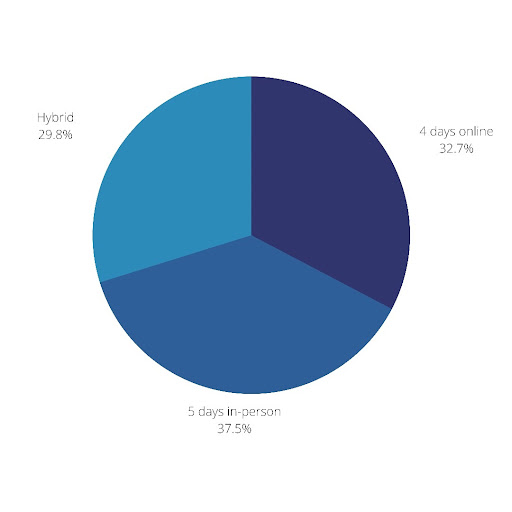 Students have mixed opinions on how school should be conducted after an entire year online. Out of 206 kids polled, there was a nearly equal three-way split between people who prefer hybrid, in-person, or online learning. 
"I stayed virtual last year, but I prefer in-person," said sophomore Andrew Downham. "I did like having Mondays off though."
There has also been controversy over how FCPS dealt with the transition back. Fears arose over whether going back fully in-person was too fast, the lack of available social distancing, and how a COVID-19 outbreak would be handled. Many students, especially underclassmen who had never set foot in the building, were overwhelmed and confused with the lack of information provided.
"I think [the county] could have been better at communicating things directly to the students and not just through parents, but I get it," said senior Zoelle Pierce. "Since I'm a senior, I felt fine about the transition, but I'm sure it was rough for freshmen and sophomores."
With Fairfax County being one of the richest counties in America, there has been a lot of room for improvement for online school technologies, which allowed for an entire school year to be taught through a computer screen. Constant updates and changes were being made to ensure the best experience possible. Students, despite the county's efforts, were once again split over the environment they learned best in. The trend tended to lean towards introverted students preferring online classes or hybrid, and extroverted students preferring in-person or hybrid.
"I mostly did well online but I had a hard time paying attention in class and doing homework," said junior Andrea McCoy. "In person, I feel like I'm learning more and actually retaining the information being taught to me."
Some students have also criticized FCPS' decision to only provide in-person learning with no option for virtual, the only exception being kids with underlying health conditions. Many students grew accustomed to being at home with the freedom that was previously paired with online learning. The possibility of choice when it comes to learning options has now been abruptly taken away.
The lingering question of whether or not a return to online school is inevitable seems to be on everyone's mind. The current policy for anyone with COVID-19 is to quarantine the sick student and the four students who sit around them instead of sending a whole class or school home. With the new Delta Variant surge and the population of unvaccinated adults and children, schools may be forced to temporarily shut down again. 
"I am almost positive we will go back to hybrid because of the new Delta Variant, but I'm not sure about fully virtual," explained junior Grace Kimball. "Some friends of mine have already gone back online only a few counties away."
The main advice being provided by the county and the CDC to prevent another school year online is to wear a mask and get vaccinated. In an environment packed with over 2,000 kids who want to socialize and have fun, these preventative measures become even more crucial.