Springfield's slice of Switzerland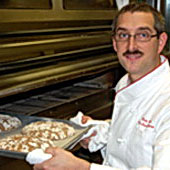 Sherry Virden, Managing Editor
April 28, 2017
Hang on for a minute...we're trying to find some more stories you might like.
Found in the Ravensworth Shopping Center just off of Braddock Road, The Swiss Bakery is a little piece of Switzerland eight minutes away from WS.
The Swiss Bakery is a full service retail store where everything is sold at moderate prices in comparison to the good quality, even for high schoolers who often are stuck working part-time with minimum wage jobs. All bakery items are prepared fresh daily, and the bakery definitely stays true to its Swiss roots.
The store is stocked with traditional Swiss foods such as raclette, a melted cheese dish indigenous to parts of Switzerland; and a variety of imported chocolates like Cailler and Camille Bloch, which the Swiss are famous for, with very good reason. As an avid chocolate fan sometimes bordering on connoisseur, I find The Swiss Bakery's array to be a delicious blessing.
My first encounter with The Swiss Bakery involved cake. It was light and fluffy with a mild vanilla buttercream frosting and a fruit topping, reminiscent of a strawberry shortcake. It had a nice texture and wasn't overly sugary, but the taste was rather plain and muted. Delicious when cold, but nothing special at room temperature. If you don't want anything overpowering, their cakes are the thing for you.
Their cupcakes are a complicated novelty. I, a firm believer in eating twice as much sugar as I should, got not one, but two cupcakes: one chocolate and one vanilla. They use cake or pastry flour instead of all-purpose flour like the everyday person, giving it a finer texture and keeping the cupcakes less crumbly than usual. They were dense but still light, and while the different texture made them feel a bit dry, they're actually fairly moist.
The frosting the bakery uses tastes nothing like the slightly stale store-bought canned frosting. It probably weighed as much as cotton candy and felt like a fluffy, flavored cloud, tall enough that one bite resulted in frosting on my nose.
The chocolate cupcake was like a hot chocolate, slightly powdery cupcake with what tasted like chocolate whipped cream for frosting, and the vanilla was like a pound cake with spun sugar for frosting. Both were delicious, especially with a cold glass of milk to counteract the sugar rush I got from eating two cupcakes that were equal parts cake and frosting.
Food aside, the atmosphere of The Swiss Bakery was that of a casual cafe without excessive noise or lengthy lines. For high schoolers, the hours may cause you to miss out on a parking spot on Rolling since they open at seven in the morning, but you can always swing by anytime from after school to closing time at seven every weekday (except Monday, when they're closed).
Switzerland is known for four things: their neutrality, their banks, their clocks, and their chocolate. The Swiss Bakery has at least one of those, making it at least a quarter authentically Swiss.