Rock out with Strung-Out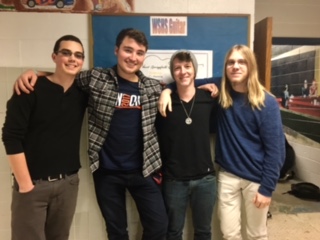 Murwah Murad, Oracle Editor
February 17, 2017
Hang on for a minute...we're trying to find some more stories you might like.
Four senior Spartans are hoping you become addicted to their band, Strung-Out.
Seniors Cole Krieger, Dale Guernsey, Joe Kriebel and Logan Warrington formed Strung-Out at the beginning of this school year, but have been playing off and on since freshman year. All four musicians have grown through the Guitar Program, which is the symbolic core of the group.
"If we weren't to have met in any other circumstance, we all would've met in Guitar at some point and eventually probably made this band," said Warrington.
Music teacher Keith Owens acts as their mentor and a guide for the band. Together, they have created a connection that goes beyond the typical teacher-student relationship.
"He treats all of us like musicians. He makes fun of us, he encourages us, [and] he laughs at the things we say," said Guernsey.
Strung-Out is the only solid band that comes from the Guitar Program and they can be most noted for their unique taste in music. Their songs combine heavy rock vibes with smooth rhythms of jazz. The group tends to find their muse from bands like Metallica and Pink Floyd.
"There's a nice fusion-I want to emphasize that word-of a metal background incorporating jazz as a daily routine and then it spans out in different directions from there. But [those are] the two main genres," said Warrington.
The band is working toward composing their own music, and are hoping to play these original songs at some of the festivals they have auditioned for. It takes a good amount of effort and practice on their part and they try to rehearse whenever they can because work schedules and school can get in the way.
"The typical formula that goes into is one of us will start out with something, like we'll have a bass line or guitar line or even some drums and we'll just build off of it, and usually it's an instant creation," said Guernsey.
The amount of time the band has to spend together may seem irritating, but it's actually enjoyable for them because they are best friends and were close before the creation of Strung-Out. Some of them have known each other for 11 years and it's that bond that brings real emotion to their work.
"We kind of understand how each other think enough to be able to help each other push through anything that may be bothering us, so it doesn't affect our music," said Warrington.
The guys hope to inspire fellow students to start their own bands and compete against them in the Battle of the Bands at the end of the year. The plan as they move forward in their senior year is to continue to make music and enjoy each day.
"It's so much more, and it's a cliché, but it's so much more than that end game. It's all about the dream. Those experiences you get out of it that you wouldn't have thought of before," said Warrington.