Staff Spotlight: Wolson Gustama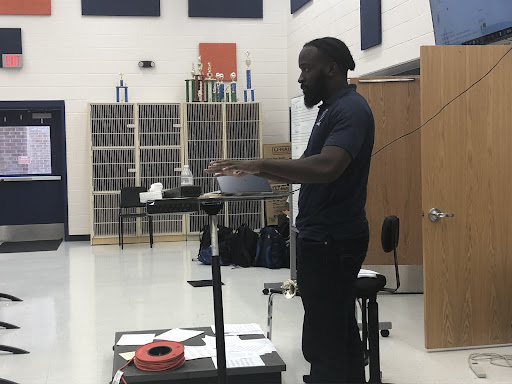 WS has just gained a new band teacher and marching band director, Wolson Gustama. From flutes to trumpets to trombones to drums, band is a diverse class with various instruments to play and conduct. 
"I got my undergraduate degree in Music Education from Bethune-Cookman University in Daytona Beach, Florida," said Gustama."I got my Master's Degree from Florida State, as well as an Educational Specialist Degree from Piedmont University," he continued. 
Being a band teacher and director requires attention to detail, hard work, and dedication. Gustama has always brought all of these qualities to the table, but it took him a while to understand their useful nature. Later, he realized that these were the qualities that make a band director successful. After college, Gustama started teaching band classes. 
"I always had a passion for music and leadership," said Gustama. "I demonstrated band director qualities throughout life, and it took me a long time to realize it." Being band director also requires long hours, with the teacher having to go from a full day of teaching to up to three hours of marching band rehearsal. Additionally, there are the three weeks in August with nine hours a day dedicated to marching band rehearsal. 
Gustama has been teaching for nine years, and lived in Georgia until he eventually moved to West Springfield, after the departure of the previous band teacher and director, who left to work at a different position within FCPS.
"He's been a really great teacher and I hope we play really interesting things," said senior and flute captain of the Marching Spartans Rachel Safarian. "In marching band, we've moved a lot faster. I think our marching band show is going to be a lot better."
A band has numerous instruments, all which work in different ways to create beautiful music. To be able to reign in all the instruments and be a great leader requires certain skills. Marching band started a few weeks ago, and Gustama has shown his possession of these qualities. 
"We are off to a great start. [I'm] excited to see how we finish!" voiced Gustama.
The school year has kicked off to a great start for the band, with Gustama speaking of all of the fun he and the students have been having, along with the shared learning experiences of the entire group.
"[I hope to bring] continued excellence and increased attention to detail," said Gustama.