Saving my homeland
Senior Spotlight on Tenzin Werner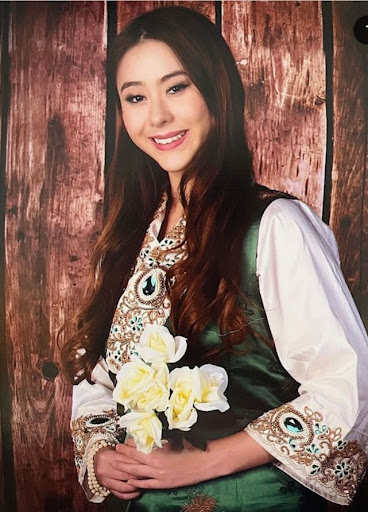 Celebrating and carrying on your heritage is both important and impactful. Senior Tenzin Werner believes it is her responsibility to advocate for her homeland and spread awareness to the current happenings in Tibet.
Even though she views freeing Tibet as an "unattainable goal," Werner has gone to great lengths to advocate for her homeland. Back in September on Tibet Lobby Day, she lobbied Congressional representatives in support of Tibet-related legislation.
 "During Tibet Lobby Day, I helped lobby US Congressional representatives in order to gain support for Tibet-related legislation," Werner explained. "Multiple days were spent talking to the offices of figures like Tim Kaine, Ted Cruz, Gerry Connolly, (etc)."
The lobby turned out to be a huge success and ended up helping Tibet immensely.
"Due to our efforts, both the Uyghur Forced Labor Prevention Act and HR8365 – the Promoting a Resolution to the Tibet-China Conflict Act were passed in the House and Senate," Werner said.
Werner does not like to advocate for Tibet just for the fun of it. Although she is only half Tibetan, she feels completely immersed and connected to the region, with one of the connections being her grandfather. In the 1950s, Werner's grandfather walked to India with thousands of other refugees for a better life. Not only does she have relatives who have escaped, but she herself also grew up in a refugee settlement in India. 
"My grandfather escaped Tibet when the Chinese Communists invaded in the 1950s. He walked to India with 100k other refugees and started his new life. Although I am half Tibetan, I am fully devoted to the Tibetan cause," Werner explained. "Because I grew up in a refugee settlement in northern India, advocating for immigrants, refugees, and other vulnerable groups has always been one of my greatest passions."
While Werner recognizes that actually freeing Tibet is not within reach, she still does all that she can to lend a helping hand and make a difference, and feels it is her responsibility as a Tibetan in the diaspora to stand up for them. 
"When millions of my people are undergoing vast human rights violations in our homeland, it is the responsibility of us Tibetans in the diaspora to advocate for them," she declared. 
Werner believes something as simple as practicing and embracing her Tibetan heritage is sometimes the best thing one could do in a situation like this. To do this, she often cooks cultural foods, adheres to religious practices, and educates the people around her about the Tibetan cause.  
"When the Chinese government is trying to systematically eradicate Tibetan traditions in our homeland, sometimes the most powerful thing a Tibetan can do is unapologetically practice our culture," she explained. "I carry on Tibetan culture by practicing our unique form of Buddhism, cooking Tibetan foods, and educating my friends on Tibet's history." 
Although political activism has always been one of her biggest passions, she has many other aspirations and hobbies that she takes pride in, including producing music, studying history, and cooking Tibetan cuisine. 
Werner's post-high school life is looking bright, and she has many plans for after high school. In December 2022, she received a very special letter from Stanford university. Not only was she accepted into one of the most prestigious schools in the nation, she also received a full ride scholarship that covers not just her tuition, but all of her expenses required to attend college.
"I found out about the scholarship at the same time as the acceptance letter," she explained. "Definitely one of the happiest days of my life. [….] I feel incredibly grateful and honored."
During her time at Stanford University, she plans to major in international relations with a minor in "either music technology, spanish, or religious studies."
Along with attending Stanford for higher education, she plans to go into human rights law to further pursue her greatest passion.