Florida among states passing anti-LGBTQ+ laws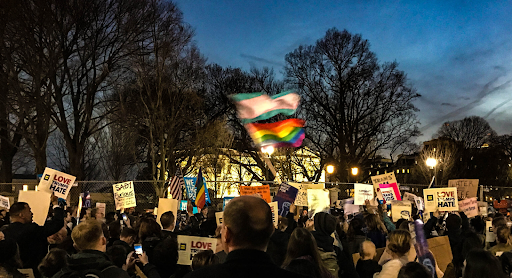 States are in the process of passing bills that are harmful to the safety and rights of LGBTQ+ individuals, especially minors. Florida is one of the states at the forefront of these new bills.
The "Parental Rights in Education" bill- titled the "Don't Say Gay" bill by LGBTQ+ activists- has been signed in Florida by Governor Ron DeSantis. This bill seeks to limit discussions of LGBTQ+ related topics in classrooms with kids in kindergarten to third grade, but also any discussion "in a manner that is not age-appropriate or developmentally appropriate for students in accordance with state standards." The bill also allows parents to sue schools and teachers who have discussions about LGBTQ+ topics.
The effects of this bill spread to the mental health of LGBTQ+ youth in the Florida school system. Activists are wondering if these new rules will make young students question if it should be considered a bad thing to talk about LGBTQ+ topics, contributing to issues like internalized homophobia. LGBTQ+ students who have already realized their identity may begin to feel uncomfortable talking about themselves in schools, depriving them of a safe space that should be guaranteed to them.
An amendment to this bill was removed before it passed through the Senate, which would have required teachers to "out" or disclose a student's sexuality or gender identity to their parents within six weeks of the teacher finding out. This would only apply if the student was not heterosexual and cisgender. Some Florida teachers voiced their disapproval for this amendment, saying they would not comply with these rules if it meant jeopardizing the safety of their students.
Floridians have not let this pass quietly and have been protesting the bill. Students in Florida public schools have been walking out of class, chanting "we say gay" and holding supportive signs and pride flags. Jack Petocz, a queer student who organized a walkout at Flagler Palm Coast High School, was indefinitely suspended as a result of the preapproved protest. In a statement on Twitter, Petocz said that he encouraged peaceful protest throughout the rally, but still faced suspension.
The future of LGBTQ+ kids in Florida is quite unclear. Due to the nature of these protests, this bill is not widely supported by the Florida public. The bill has been signed by Florida Governor Ron DeSantis and will go into effect on July 1. Going forward, organizations like the Human Rights Campaign will continue to provide opportunities for action to Floridians, and protesters will continue to show that their voices will not be silenced.