The first Black woman nominated for the Supreme Court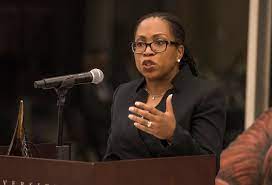 Update: On April 7th, 2022, Ketanji Brown Jackson was confirmed onto the Supreme Court.
Ketanji Brown Jackson was nominated by President Joe Biden to be an Associate Justice of the Supreme Court and, if confirmed, she will be the first Black woman to serve on the Supreme Court.  
"It's a good thing to be happening, and I think it's about time," commented junior Kissa Gaona-King. 
Judge Jackson attended Harvard Law School, worked as an editor on Harvard Law Review, and clerked for Justice Stephen Breyer, who she is currently nominated to replace. Despite being created in 1789, a Black woman has never served on the Court; Biden's nomination of Jackson, if confirmed by the Senate, will remediate that statement.
 "[African Americans] are going up in the world and [are] able to put their [names] out there," said junior Brie Reid. 
Thurgood Marshall was the first Black man to serve on the court from 1967 to 1991. The first woman to serve on the court was Sandra Day O'Connor, who served from 1981 to 2006. Reid added that she was glad that a Black woman was finally nominated. 
"I think it's tragic to be saying that in this day and age [a Black woman hasn't been nominated], it should have happened sooner," said Gaona-King. 
Only eight of the justices on the Supreme Court have not been white men in the Court's history, with five of them being women. Three of the justices have been people of color: two Black men and one Hispanic woman have served. 
"For too long, our governments, our courts, haven't looked like America," said Biden at the nomination. "I believe it's time that we have a court that reflects the full talents and greatness of our nation." 
One of the three federal government branches that were created over 233 years ago, the Judicial Branch's Supreme Court was made to interpret federal law. Up until 1981 when Ronald Reagan appointed Sandra Day O'Connor, all of the justices had previously been men. Justice O'Connor inspired women, bringing the percentage of women studying to be law students up to 48 percent in 2006 from 2 percent in the 1950s, according to the Sandra Day O'Connor Institute For American Democracy. 
Judge Jackson, if confirmed, would replace Justice Stephen G. Breyer, who is retiring after serving since 1994. 
"It's another significant step forward in having more diversity in politics in general," said junior Henry Davis-Jones.