French President Emmanuel Macron defeats rival Marine Le Pen in historic French presidential election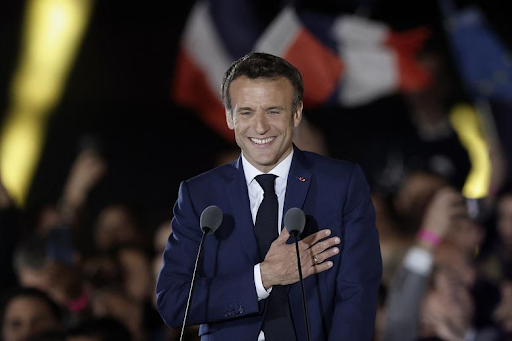 Even after democratic-socialist La France Insoumise candidate Jean-Luc Mélenchon fell short in the French primary elections, incumbent liberal La République En Marche! President Emmanuel Macron defeated far-right National Rally candidate Marine Le Pen in a historic French presidential election.
"So this was an important election in France, but this was also an important election for the entirety of Europe," said teacher Daniel Noble, who is a follower of European geopolitics. 
In France, presidential elections are held every five years. For the past 20 years, not one president has been elected more than once. 
"Because [Macron] was reelected, he is now the most senior-serving statesman in Europe. After Angela Merkel, the chancellor of Germany, stepped down after [serving] for 16 years, Europe has been [these past four months] somewhat leaderless, and I believe with the reelection of [Macron], Europe now has a senior statesman to lead it in this very difficult time," said Noble. 
Still, the path to victory wasn't easy for Macron. Up until the end of the election, he and his rival Le Pen were locked in a very close race. In 2017, when the two faced last, Macron won 66.10 percent of the vote to Le Pen's 33.90 percent. Compared to now, Macron won only 58.6 percent to Le Pen's 41.4 percent.
"[Le Pen] was often described as a far-right candidate, however from the past election to this [one], she [did] become more moderate [for her party]," said Noble. 
There are several reasons to account for Le Pen's sudden change in policies, the most topical being Russia's invasion of Ukraine. Before Russia invaded Ukraine in late February, Le Pen was very sympathetic to Russian President Vladamir Putin and often lauded him. However, when Ukraine was invaded, she backed down from her support. Similarly, Macron was forced to step away from the campaign trail and worked as "Europe's ambassador" to Putin, pleading with him to back down from his invasion. It should also be noted that Macron received mixed responses on his policies during his first administration. While his ideas regarding the European Union and other European geopolitics were applauded, his handling of the Yellow Vest protests and the Covid-19 pandemic were vastly criticized. Le Pen offered a change from Macron's platform in her election bid.
"I believe [Le Pen] is more of a 'France-first' person rather than 'Europe-first," said Noble. "I believe that she follows that ideology."
One of her more controversial ideas was for France to leave the North Atlantic Treaty Organization (NATO), which would have drastically changed the landscape of both Europe and France's relationship with the rest of the Western world. 
 "Right now more than ever, the European Union and [Europe] needs to present a united front to the world, to China, [and] to Russia, and I'm not sure [Le Pen] would've had all of Europe's interests at heart,"  said Noble.