A community in conversation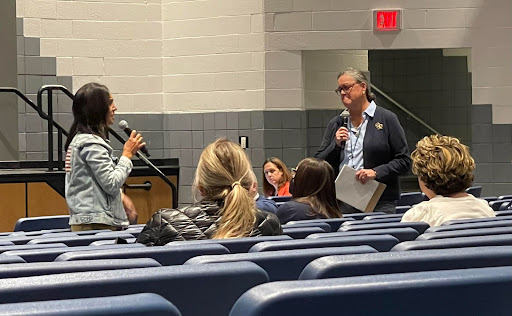 Since becoming superintendent of Fairfax County Public Schools (FCPS), Dr. Michelle Reid has conducted various town hall-style meetings at schools to help people have their voices heard. On October 25, Dr. Reid made a stop at WS.
How will Dr. Reid and the board respond to the recent ableist slur used by member Karen Keys-Gamarra? 
"There is a board governance manual for [FCPS] that lays out guidelines for how the board will respond to a board member or colleague concern. We will be proceeding with that concern, likely in the coming days," said Dr. Reid in response. 
The board will address this issue in a series of closed meetings. Dr. Reid stated that there is a chance that a portion of those meetings will be available for the public to take part in. 
One parent of a junior at WS was concerned about discrimination against her daughter and discouragement of her passion for science. 
In response, Dr. Reid asked for her contact information. She thanked the woman and asked for the next question. 
One man noticed the previous lack of response from Dr. Reid and asked for the statement to be fully addressed. 
He described the situation as being similar to his own. He had gone to a previous community conversation where he was asked to provide his information after he had asked a question. The man alleged that he received no direct response from Dr. Reid and resorted to contacting one of her staff members. While the man had a satisfactory conversation with this staff member, it was not what he was looking for. Dr. Reid acknowledged the question's validity and handed the microphone back to the mother. 
Dr. Reid did apologize for the woman's distress. She asked some clarifying questions but said that she wanted to address all of the woman's points while allowing time for other questions. The interaction between the two ended much as it had the first time: with the daughter's name provided to Dr. Reid and a promise to get in contact later. 
Why are there no walkouts for those in support of Governor Glenn Youngkin's model policy?
"For families that are for [Governor Youngkin's model policy], where is [our] rally? For those parents that have a different point of view, that are wanting to be involved in their kid's life, and aid educators in doing their amazing job, what can you do for us? We feel like there is this division in such a strong community that you do not want to see," asked the mother of a WS student. 
Dr. Reid stated that FCPS is very encouraging of parents who want to take part in their children's school lives and supportive of those who choose to do so through organizations like Parent Teacher Associations (PTA). When addressing the mother's specific concerns regarding policies affecting transgender students, Dr. Reid said that schools are meant to be a safe space for everyone. 
"What we want is to keep our children, what's in their best interests, and their ability to show up as their authentic selves in learning spaces at the center of the conversation. The ability for our young people to just be them in whatever fashion [feels] safe is so important," responded Dr. Reid. 
Dr. Reid also stated that, as of now, the current FCPS policies regarding transgender students would remain. Notably, earlier that same day, the Fairfax County Board of Supervisors made an official statement opposing the governor's new policy. An email from Dr. Reid was also sent out to parents in September, stating that FCPS is currently reviewing the draft policies from the governor. 
What do parents think about the Fairfax County Youth Survey? Where is the data stored and what is it used for? 
"At the beginning of the year, publish the survey questions, what companies run them, how they store the data, and how it is used. [The Fairfax County Youth Survey] is harmful to our kids, there is not an inch of privacy and this is contributing to any mental problems they may be having. It is such a violation of our kids' privacy," stated a mother of three. 
The woman's statement seemed to resonate with many at the meeting as they clapped. Dr. Reid stated that the survey is used for staffing purposes, specifically with counselors. Dr. Reid also noted that the county is trying to be thoughtful about how the data is used. Another parent also had thoughts on this issue. 
"I have a different perspective. I think we are a population within Fairfax County, [a place] that is very broad and diverse, that may not have as many of the issues that kids could face across the county. We are relying on our schools to do a lot more [in] raising our kids because we, as parents, sometimes can not afford to be there. These surveys are giving our kids a voice, they're being able to answer questions and topics that need to be talked about. I read up this year on the Youth Survey and it made me realize that I need to be talking to my kids about this now, these are [things] they are going to be exposed to. We are a very blessed community, but the county is very diverse and I think these surveys are needed," declared the other parent. 
What else was important to parents at the meeting? 
Other notable topics of discussion included low testing numbers and literacy within the county as a result of virtual learning. When Dr. Reid asked what parents would like the county to do to solve these issues, they stated that they would like to see more focus on reading and writing for younger students and roll out programs to help teachers with this load. Other parents wanted more contact with the principals and counselors and alerts when there is a long-term sub for any classes. Some also stated that they wanted to see an increase in the amount and equitability of immersion, leadership, and magnet programs. 
What can FCPS parents do to support Dr. Reid?
 Dr. Reid encouraged parents to continue to play an active role in the FCPS community and asked them to be their best selves and grant grace to themselves and others. 
"The power of public education is not about the 13 years children are with [the school]; it's about the trajectory of the rest of their lives that we set them on," she concluded.