The road to transparency leads to change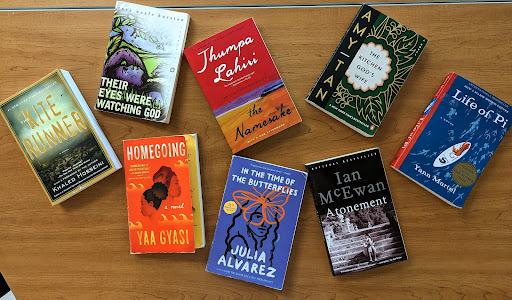 A new law went into effect this January for Virginia schools. Parents must now be notified of any sexually explicit content in the material used in class. While this policy is enforced throughout the subjects, English teachers will be most affected.
The 2022 law, which these policies have stemmed from, comes as part of a wave of changes meant to ensure parental involvement in the lives of their children. Teachers must notify parents of any material that includes sexually explicit subjects. Parents will be able to review the material and decide if it is suitable for their child. From there, teachers must provide alternate instructional material and activities to students whose parents request it.
"The new changes will certainly affect our curriculum and teaching. I am not sure 'how' it will impact my day-to-day instruction yet, but it will drive my planning and class discussion. From what I understand, so far, ANY book that we are planning to use for class, must go through a new 'approval' process," stated English teacher Danyele Magretta.
The new law affects all instructional material used in classes and is not limited to just books. Previous law defines sexually explicit content as "any description of or any picture, photograph, drawing, motion picture film, digital image or similar visual representation depicting sexual bestiality, a lewd exhibition of nudity, sexual excitement, sexual conduct or sadomasochistic abuse, or fetishism." School boards must either use the framework provided or create their own policy that complies with the law. 
"We must provide rationale as to how the book fits into the Fairfax County Public Schools (FCPS) curriculum and state standards. After we submit the paperwork, we have to wait for approval by the committee; curriculum team lead/department chair, the school principal, and FCPS. After a book is approved, we must then mail a letter home to parents with the explanation of the book and its contents before we can begin teaching the book. This process includes books we already have on our shelves in the English bookrooms," said Magretta 
The College Board, as well as other standardized and national testing, falls into a gray area. Any material used by these organizations for their tests is not subject to the law's scrutiny, however, teachers whose classes accompany these tests still must go through the process.  
"For teachers of College-Board courses, time will have to be taken from the already hefty load of planning, instruction, and grading to collate and distribute letters to families. Likewise, remediation might have to take a different format, perhaps even an inferior one, because of each school's limited book-room catalogue and the thirty-day notification requirement," stated Advanced Placement (AP) English Literature and Composition teacher Heather Hicks. 
Some titles used by these classes would fall under the category of sexually explicit as defined under Virginia law, however, books used by the AP English Literature and Composition and AP English Language and Composition courses are approved by the College Board. Many have made appearances in past exams or have been recommended to complete certain parts of the essay sections.  
Governor Youngkin campaigned on the promise of transparency. Providing parents with a closer look at education has also provided them greater control. Teachers have had to mold their teaching practices in a quickly changing environment both to appease parents and comply with new regulations. 
"In general, we teachers are not teaching inappropriate material no matter what new regulations require. These are new 'hurdles' and 'hoops' to jump through to satisfy the new Governor's agenda and to give more transparency to parents." said Magretta.