A decrease in air quality, a decrease in athletics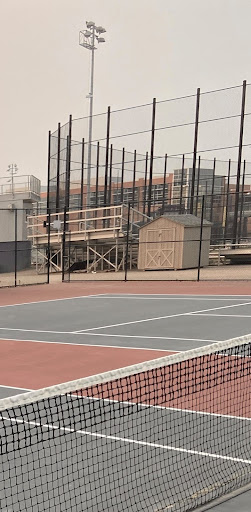 All across the Washington D.C. area looms a larger threat above: dangerous levels of air quality. This impacts people from all walks of life, but is specifically straining for student athletes.
Springfield reached an Air Quality Index number of 177 on Wednesday, marking historically high levels. The smoke currently impacting current air quality levels is reported to have originated from wildfires in Quebec, finding its way to the D.C. area through wind cycles. Students are finding multiple ways to adapt to this climate.
One such individual affected by this sudden change is junior softball player Maile Stansberry.
"[Hearing about the quality] was scary at first. Personally, I didn't even initially notice, but when I got into the car, my nose started bleeding. Later, I got outside and it was kind of foggy, and I thought 'What is going on?'. Then, I finally heard about the air quality," recounted Stansberry.
In addition to this modification of an otherwise predicted clear, warm summer, Stansberry experienced fear of its impact on her athletic performance.
"My practice was canceled yesterday and I am supposed to have a tournament this weekend, but I don't know if it may be canceled. It's really upsetting because you practice for a game or tournament, but then you have to restart because of the air," said Stansberry.
Junior track runner Chloe Miller feels similarly, citing poor air quality as a cause of poor sports performance.
"Our nationals are going to be the weekend at the end of school. Hopefully, the air is clear by then because our nationals will be in Philadelphia, which is closer to the fire," said Miller.
Sharing these worries are the concerned parents of these young athletes, who consider this air quality potentially hazardous for their children.
"I have appreciated FCPS and other local youth sports organizations being mindful of our children and teenagers' health by canceling outdoor sporting events this week. The air quality has the potential to impact our children's health with both immediate and long-lasting, negative effects," said a parent of a WS student playing a sport currently, who wished to remain anonymous.
Multiple health precautions are in place as well.
"It can definitely cause asthma flares. A lot of people are sensitive to irritants in the air and it can trigger these health complications. Because of this, students and parents should follow the precautions set by local health departments. People at particularly high risk should consider wearing appropriate medical masks outdoors," said school public health nurse Gabriella Veatch.
Despite these growing fears, some still feel optimistic about what lies beyond the minacious fog that shrouds the field under the floodlights.
"Yeah, I feel like it has already gone down a little bit. Hopefully, it will improve. Yes, I have hope for the future," said Stansberry.