Transgender swimmer sparks controversy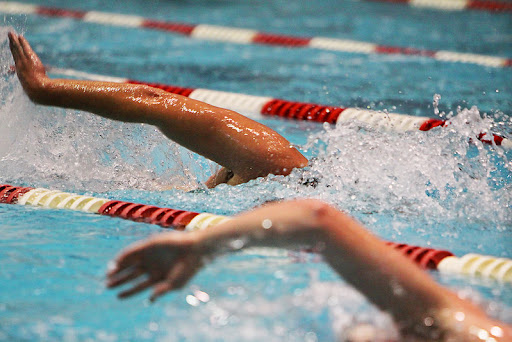 The world of sports faces a familiar topic of discussion, one that has now intensified like never before. With the recent success of collegiate swimmer Lia Thomas, preexisting conversations surrounding the inclusion of transgender athletes in sports have reignited among athletes and observers alike.
Thomas, a member of the University of Pennsylvania women's swim and dive team, gained considerable notoriety and national attention following numerous record-breaking performances throughout the 2021-2022 National Collegiate Athletic Association Division I swim season. This season of competition marks the first in which Thomas competed in women's events since beginning her transition from male to female in 2019. Since then, Thomas has recorded the fastest women's 200, 500, and 1,650 yard freestyle times in Ivy League history and led all women in both the 200 and 500 across the NCAA during the regular season. Thomas, who qualified for the NCAA Women's Championship meet in the 100, 200, 500 yard freestyle, captured first place in 500 yard freestyle final, making her a national champion in the event.
Thomas's regular season NCAA leading time of 1:41.93 in the 200 yard freestyle placed her sixth-tenths of a second faster than Stanford's Torri Huske, an Arlington native who at age 18, competed for Team USA in the 2020 Summer Olympics. At less than three seconds shy of five-time Olympic gold medalist Missy Franklin's national record, Thomas's 200 yard freestyle time positions her well within reach of breaking the seven-year-old record set while Franklin competed as part of the University of California.
Initially recruited and awarded an athletic scholarship as a male athlete, Thomas swam for the university's men's team for three years, having last competed in male events as recently as November of 2019. While swimming under the male category, Thomas found sustained success recording times that ranked her second overall at the 2019 Ivy League Championship Meet in the 500, 1,000, and 1,650 men's freestyle events.
In 2019, subsequent to undergoing hormonal replacement therapy, Thomas began the process of testosterone suppression in accordance with NCAA regulations. The NCAA previously required all transitioning male athletes to have completed a full year of testosterone suppression treatment prior to competing in women's categories and events. The NCAA has since altered the way in which it mandates requirements for transgender athletes, now allocating jurisdiction to each individual sport as opposed to using a universal set of standards.
Thomas's newfound level of success has not come without widespread effects which now extended far beyond collegiate swimming. Months prior to the posting of Thomas's then NCAA leading times, Gov. Kim Reynolds of Iowa signed a law that has effectively banned transgender women in Iowa from competing in athletic competitions as a member of the gender in which they identify with. Numerous states throughout the country have since followed suit, including the state of Georgia, who's senate passed a law prohibiting transgender Georgia women from competing in women's category in high school athletics.
The impact of Thomas's circumstances have reached Virginia, as state sen. Jen Kiggans proposed a bill to her fellow state legislatures that would prevent student athletes in Virginia from competing in athletic events outside of the gender assigned to them at birth. Kiggans proposal was quickly rejected in the Virginia senate, though similar sentiments and pieces of legislation will likely arise under Gov. Glenn Youngkin.