Rifle coach's grand departure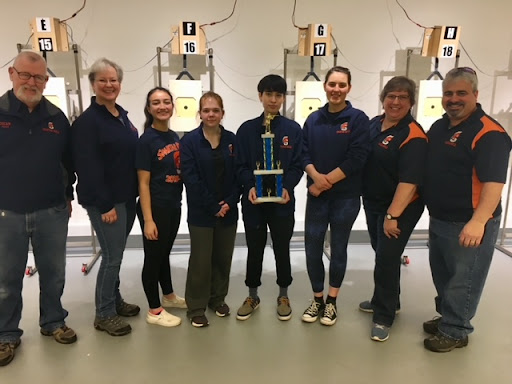 Coach Val Thrasher is passing on the torch as she leaves the WS Air Rifle team after ten years of working with students. 
Thrasher started coaching when her daughter joined the Air Rifle team in 2011, and she blossomed into her role as an expert in the sport and a coach for the high school students.
"I started helping with the administration work for the team, organizing carpools to matches, fundraising and such, then I took the NRA Coaching Class and did a lot of on the job training with Coach Oscar Starz and Coach Bucky Sills," said Thrasher. 
Thrasher wanted to create an atmosphere that was a balance between having fun and maintaining a competitive spirit. She added different games and little competitions to practice to help keep the team in high spirits, and Thrasher was able to meet a myriad of students through the team. 
"The most rewarding part of coaching is seeing the students grow during their years on the team.  Most come in and do not want to talk with the coaches and do not know what questions to ask. As the years go by, the students start interacting with the coaches and asking higher level questions about training and equipment," said Thrasher. "At the end of the senior season, we have watched these teenagers develop into mature adults ready to venture into the world as successful, caring people." 
Students on the air rifle team are able to learn teamwork skills, communication tactics, and the added bonus of math skills. Thrasher's favorite part of her job is working with these students and helping them become top tier athletes.
"Each year [students] bring a different energy and the team dynamic changes depending on the students," said Thrasher. "I want students to find their passion, even if it is not air rifle. This team can help them learn life skills and reach their goals."