New sports regulations?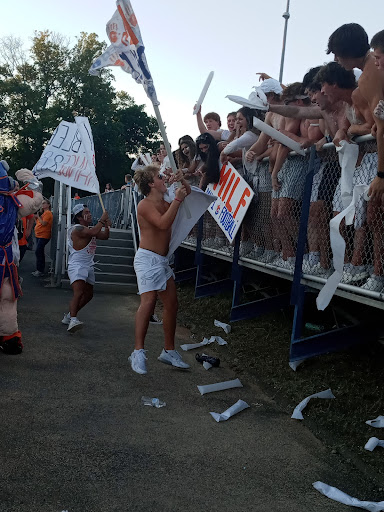 It has recently come to the attention of WS sports fans that there is going to  be a change in the way they cheer on the Spartans due to an emphasis on previous Student Rights and Responsibilities (SR&R) guidelines.
In a series of recent SR&R meetings, Spartan sports fans were informed that they are not allowed to call out specific players on other teams by name or number, with offending students risking ejection and suspension from future games.  
While not a new rule, this announcement seemed to be news to many, as outrage echoed throughout the auditorium. The new emphasis comes as recent strides have been made in developing a new sportsmanship policy for the Occoquan Region.
"This [increased emphasis] has to do with basketball," said principal Michael Mukai. "[Fans were] yelling at the kids when they [were] doing free throw shots. They [would] specifically yell at the kids to try and get them to miss their shot."
This is not the only example of fans becoming rowdy at indoor sporting events. In 2019, there were issues with the WS student-lead Hype Squad pushing the boundaries of good sportsmanship at various volleyball games.
"I feel like there is definitely some of the cheering population that struggles with positivity," said volleyball coach Stephanie Noriega. "Because we play in a gym as opposed to out on the field, the fans are much closer to the action where you can actually hear what they are saying. I think it affects the players that are being talked down to more [than our players]. I have seen some players from other schools struggle when our fans are targeting them." 
In recent seasons, COVID-19 prevented many fans from cheering on these indoor teams. The volleyball team went from averaging 400 fans every home game to only 25. As these teams begin to build up their fan bases again, there is a chance of targeting becoming a larger issue. It is especially important to keep in mind since sports like football already have a large student section to cheer on the team.
"I was mad [about the rule], but we moved past it and we decided other ways to figure out how to be the Hype Squad without calling out numbers and names," stated senior Luke Baird. "I think it will affect us more in volleyball, basketball, and baseball. It has no effect on us right now."
In the game against Washington and Liberty High School, fans clashed with administrators as students were reprimanded for booing a call made by the referees. This is the first real test of the regulation and the school has shown that they are willing to enforce it. Several students were pulled down and admonished for their behavior, however, most were allowed back into the stands. This rule is not just enforceable among fans, but also among players.
"During the game I keep my mouth shut and just play," said senior quarterback Emmanuel Baskerville. " I don't really pay attention to the stands. A few of my friends from other schools may talk a little trash, but nothing harmful to me. I think the negative remarks from fans affect football players, just not those who have the ability to just block everything out and focus on the game. I think that it is important to not say those [negative] remarks, but at the same time, it's a football game; people are going to be excited and emotional."
 During last year's football season, players and fans from Robinson, Jr. Secondary School faced allegations of racism from players and coaching staff at Alexandria City High School. Accusations of slurs and spit flung from the stands caused Alexandria City to pull out of the game in order to protect their players from further harassment.
While disruptions to that degree are not common, they do show why a targeting rule is necessary. Fans can be a positive force, but when they begin to torment players, they can harm both their target and the game.  So, as the winter sports season approaches and stands move closer to the action, fans must fight the impulse to target the opposing team; both for their sake, and for that of the players.