A rivalry spanning a decade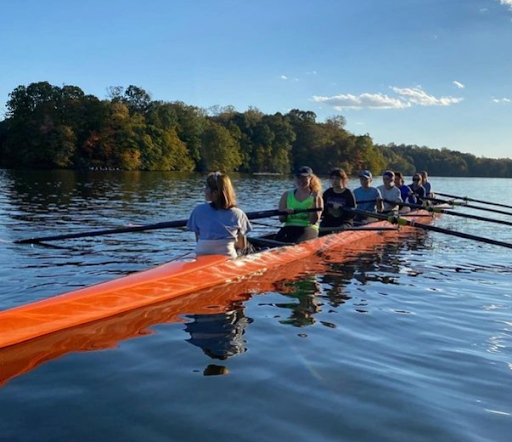 The WS and Langley High School crew teams have had a storied rivalry that has existed longer than most can remember. The competition between the two has been fierce as they fight for the number one spot in every regatta. 
The easiest place to see the rivalry between the two teams is during the winter at their annual ergathon. Each team sets up rowing machines and sees who can row the most meters in 20 minutes. The winning team gets bragging rights until the following year.
"From our annual ergathon to the weekly races in the spring, we are always neck and neck with them. It doesn't help that our teams are closely matched in terms of skill. One week we'll be ahead while the next Langley is up," said junior and girls team captain Madi Abicht. 
While the similar skill levels of the teams certainly helps maintain the feud, the proximity of the two teams has made the rivalry inescapable. Langley and WS share a boat house and see each other every day at practice. Before they even get on the water, they hold small competitions as they race to see who can get their boats out of the house first. Once they are on the water, however, the real competition begins.
"Whenever we know we have a race against a Langley boat, our biggest goal is to get ahead of them, it's an unspoken rule," said Abicht.
The competition may be intense, but it is all in good fun. While there have been a few instances of injury to rowers by the other team on both sides, they have all been accidental and do not ruin  what is otherwise a good natured rivalry. 
"There has never been any clear confrontation, we still have good sportsmanship with them and wish them good luck at races. Of course when we are alone we might act differently but both teams know not to cross the line. Whenever the women's team loses to Langley, we have a tradition of giving them peanut butter," stated Abicht. 
This show of sportsmanship exemplifies the team's rivalry with Langley. While they will still try to win, there is a mutual respect between the two teams that keeps it from going too far. Although Langley may be the crew team's traditional rival, they have their sights set on other schools this season. 
"We don't really need to train any differently when it comes to Langley, because we're already better than them. Most of the men's first varsity boats are doing fall conditioning to prepare for the upcoming season this year, which is something we haven't done before. Langley isn't much of a threat for us, but we have our eyes set on beating more competitive schools like McLean and Thomas Jefferson," said senior Will Purcell. 
With the ergathon approaching, the WS crew team has their first chance this year to beat Langley. Even though Langley may not be the toughest competition for the crew team this season, the rivalry is still in the back of their minds as pre-season workouts progress.