Female wrestlers defining girl power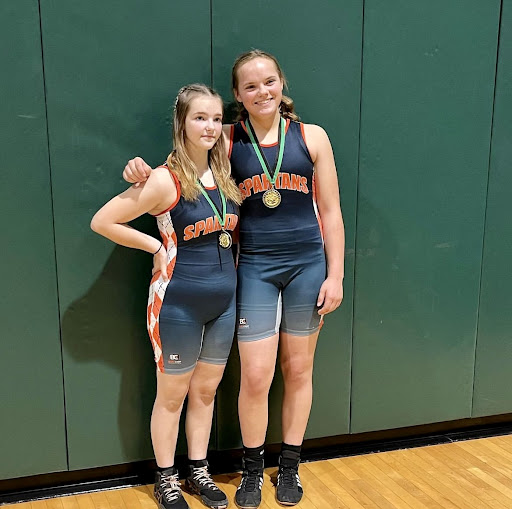 The heavy doors of the wrestling room open. The orange mats are rolled out, wrestling bags line the navy blue walls, and the boys begin their warmup drills. Well, them and the girls. 
This season, only two out of the 48 wrestlers on both the varsity and junior varsity teams are female. According to past yearbook records, there have only been eleven female wrestlers in the WS wrestling program in the past ten years.
Despite the wrestling program being historically male-dominated, freshmen Avana Harford and Elaina Primozic wanted to see their names on the roster.
"I was really nervous [to join the team], but [the boys] were very welcoming. They're all really nice," explained Harford. "I was afraid that no one was going to want to talk to me, and they would be like, 'Ew! A girl!' but they totally weren't. They were like, 'that's really cool.'" 
Primozic has had previous experience with wrestling. However, this season marks Harford's first experience competitively wrestling, although she has had experience with the martial art jiu-jitsu since a young age.
"I started jiu-jitsu when I was twelve. My dad had always done it," explained Harford. "[Wrestling] is the sport that correlates with jiu-jitsu that you can do as a high school sport."
According to both Harford and Primozic, unique challenges can arise regarding the difference between the physical strength of males and females in wrestling.
"Wrestling with guys, I know they're going to be stronger than me, so I need to be faster and have better technique," said Primozic. 
Although it has taken some adjusting of both mentality and technique, the girls are now able to overcome these challenges on a daily basis in both practices and in matches. 
"Once I step into the wrestling room, my whole attitude changes," said Harford. "When I step in, I'm okay. Nothing hurts."  
Head Wrestling Coach Patrick Smith is pleased with the fact that there are female wrestlers in the program this season. Smith believes that having female wrestlers in the program is a step in the right direction for gender inclusion in athletics, following the trend of there being more female athletes participating in other male-dominated sports.
"Wrestling started out as a male-dominated sport, and I am glad to see the opportunities increase for females. Other combative/grappling sports, such as judo, had a head start engaging females in their combative sport, and now wrestling is in the process of catching up," explained Smith.
Harford and Primozic have had a successful season thus far despite obstacles. In late December, both girls won gold medals at the 2022 Vic Blue Memorial Wrestling Tournament at Wakefield High School. 
"In the all-girls wrestling tournament they participated in, they both brought home gold medals," said Smith. "I, along with the wrestling coaching staff, are extremely proud of Avana Harford and Elaina Primozic. They exemplify the meaning of being a student-athlete."
Title IX, a clause within the 1972 Federal Education Amendment, prevents gender exclusion from educational programs and athletics in the United States. Before Title IX was passed, having females on the wrestling team would not have been possibile. 
Junior Reese McInnis, a male on the varsity wrestling team, believes that having Harford and Primozic present in the wrestling room is great for the team's atmosphere. 
"I actually think it's really nice to have girls back on the team. It's been a couple of years since we've had girls on the team," said McInnis. "It's nice to have their energy on the team, and I enjoy their company."
The girls enjoy each other's company as well. Primozic believes that the circumstances of being on a male-dominated team with Harford has sparked their friendship.
"[Harford and I] do have an interesting relationship because [being on the wrestling team together] was by circumstance, but we've kind of grown closer now," said Primozic.
According to Smith, Harford and Primozic should be looked at as an example of what it means to be a student athlete due to the example they continue to set for others. Smith encourages more females to try out for wrestling next season. 
"Our female wrestlers are very coachable, punctual, work hard, and set a great example for others to follow," said Smith.