Senior Succession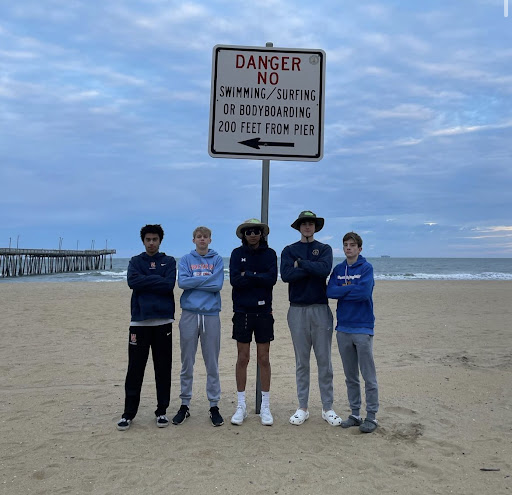 One of the most important parts of any sports team is the leaders, captains who guide the team, mentor new players, and set an example for others to follow. The time of year has come for these individuals to move on to college and beyond. Their younger teammates will sorely miss them, but also strive to live up to their legacy and replace them as leaders.
"Being a leader for the football team has been an honor and a privilege. My teammates and I are like family," said senior quarterback Manny Baskerville.
Baskerville has been the starting quarterback for the Spartan football team since Adrian Mejia was injured at the beginning of the 2021 season. He has led the team to the playoffs in both of his years as the primary starter. Baskerville will be attending Hampton University.
"I wish the best for the underclassmen and will be checking in with them and be willing to work out with them, and be a coach and teammate and look out for them," said Baskerville.
Baskerville had some of the most passing yards in the conference, as well as a first-team all-region nod as an all-purpose player. One rising sophomore hopes to take on the task of replacing him as the quarterback.
"I will work as hard as I can to be the best at my position," said freshman Anthony Bello. "The quarterback needs to help the team put as many points on the board as possible to put us in a position to win. The quarterback needs to communicate with his teammates and direct the offense while on the field."
The quarterback position requires equal amounts of skill, intelligence, and athleticism. Bello believes the current seniors have helped him address the challenges of the position.
"The current seniors have been very helpful in teaching and mentoring me and the underclassman on the team. Manny Baskerville was always very helpful and instructive to me and other quarterbacks during practice. Watching the seniors play at such a high level has encouraged me to train as hard as possible to be the best on and off the field," said Bello.
Despite his quarterback aspirations, Bello is happy to help the team in whatever way he can, even if it means not playing quarterback.
"In the end, I will do whatever the coaches think is best for the team," said Bello.
Another school sport losing their leaders is the track and field team.
"I've been a captain for the past two years and have really enjoyed being a leader, especially during my senior year when I took a bigger role on the team," said senior runner Henry Anderson.
Anderson has had a blast during his time as a leader and captain of the team. He has helped lead the team to a state championship title as well as several district and regional titles. Anderson has a lot ahead of him as his time at WS draws to a close. He aims to continue being both a runner and a leader. He will be attending the college of William and Mary.
"I'm obviously going to be very sad leaving the team but I'm excited for the running and leadership opportunities I have ahead of me. I think the team is in good hands in the next couple of years because of underclassmen such as Cael Alonzo and Jack Pritchard. Both of them have proven to be great leaders and they are both very dedicated to the sport so I'm confident the team will succeed in the future," said Anderson.
Pritchard seeks to continue the winning path that the seniors have paved.
"I love the current seniors, and they have done a great job leading the team and the underclassmen. [When I am a leader], I would not do anything differently," said Pritchard.
On the other side of the track and field spectrum, seniors Vishal Green and Gavin Reichard lead the sprints team.
"Being a leader has honestly been a ton of fun. I enjoy working with everyone around me and being as helpful as I can. It's really rewarding to see those who I was able to work with and help out, take what they learned, and make good use of it. It makes it that much more worth it," said senior sprinter Green.
Similar to Anderson, Green helped lead this year's Virginia track and field state championship run. Green plans to study computer science at Virginia Tech.
"Moving on is bittersweet, but I know the team is in good hands with the juniors behind me. I can't know for sure who will replace me, there are a lot of qualified candidates, but I am resting easy knowing that whoever it'll be, they'll do a great job," said Green.
One prospective candidate is junior Joey Blumberg, who participated in the team's nationally ranked 4×400 meter relay, as well as being one of the best pole vaulters in the state.
"I think it would be a cool experience being a leader of the team next year. I'd like to take what I have learned from past runners and coaches and try to help new athletes on the team. I don't think I'd change the example the seniors this year have set. We had guys like Enan, Gavin, Vishal, DJ, and Henry lead us all the way to a state championship, so if I can replicate what those guys did, it would be a massive success in my book," said Blumberg.
Blumberg and Pritchard both believe that "if it ain't broke, don't fix it."
Some talented seniors leave behind not one but multiple leadership roles. Such is the case for senior Thomas Seeger.
"I've been captain of the golf team for the past two years and it's been a really good experience. Golf is a game with a long tradition of respect, and a big part of my role as a captain has been helping new players learn to have that respect for the game, course, and their fellow players," said Seeger.
Seeger serves in multiple leadership roles including being the chorus tenor section leader as well as a captain of the golf team. He will be attending Brown University next year. He leaves behind junior co-captain Grace Saunders.
"I have no doubt [Saunders will] continue to be a great leader and role model for the team next year. She's a fantastic player and a better person. She'll do a great job," said Seeger.
This is high praise for the rising senior. Saunders is ready but also understandably nervous regarding her role next year.
"I want to be able to lead and help develop our team but since I'll be doing it without the support system of the current seniors it's going to be a different feeling. I'm definitely nervous because I'll have a lack of peer support (at least at a leadership level), but I'm also super excited to see what the year will have to come," said Saunders.
The end of the year is a time of both apprehension and excitement. Seniors will vacate their positions, leaving behind their friends and teammates to carry on their roles. The new year will open new possibilities for potential leaders and captains. The juniors and underclassmen will strive to fill the shoes of the departed seniors.