One Direction reunion rumors have fans revisiting their old phase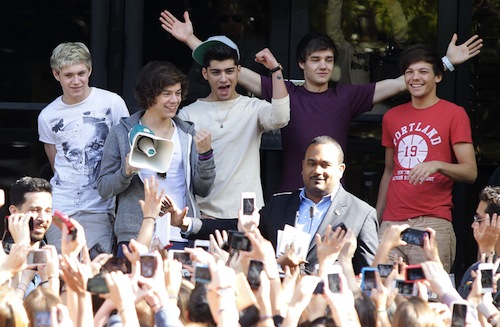 It seems like we can never escape our teenage crushes. The fans of the boyband One Direction are revisiting their old fangirling phase and they suspect a reunion in the near future. 
The band formed in 2010 and split up in January of 2016 to embark on their solo careers. Now that the 10-year anniversary of One Direction is coming up, fans suspect that the band may come back together.
Harry Styles was the first one to raise suspicion when he revealed that the band would be doing something in honor of their 10th anniversary. Liam Payne also told The Sun UK,  "To hear a lot of people's voices and seeing old content and different things that we haven't seen for a long time or never seen before, it's very interesting. At the moment, I'm not sure what I'm allowed to say."
 If you were a fan of one direction you'll also know that Zayn Malik left the band in March of 2015. When you search the band One Direction, he is no longer listed as an ex-member. The band members also followed him on Twitter. This caught the fans' attention because Zayn was unfollowed when he left the band in 2015.
Most fan accounts on Instagram or Twitter have been active since they split. Some fans are saying they never left the fandom. One Direction fan Rafa Weasly said, "I think it's not just a phase! It's something that will never leave. They are apart of my life, and I'm glad I became apart of the family."  
A lot of fans have theories about the band coming back together, much like the Jonas Brothers did. Fans have done some deep digging to figure out what exactly is happening, and they have found a lot of information regarding the band's reunion. Fans found a website, Genius Lyrics, claiming that the band has a song called "Five" coming out in October of 2020. The website also claimed the writers of the song are Louis Tomlinson, Liam Payne, Harry Styles, Zayn Malik, and Niall Horan. Shortly after fans discovered the song, it was taken down from the site which only made fans more curious. 
Most fans anticipated the band getting back together but just had no idea when. In fact, the band said they were going on hiatus when they split in 2016. The possibility of their childhood coming back has made some fans feel nostalgic, which is why they have kept digging. They want to know if the rumors of their childhood favorite band coming back are true or not. Weasly also said, "I really believe this meeting is going to happen. I mean come on it's their 10th anniversary they have to do something special."