The Ocho: Quidditch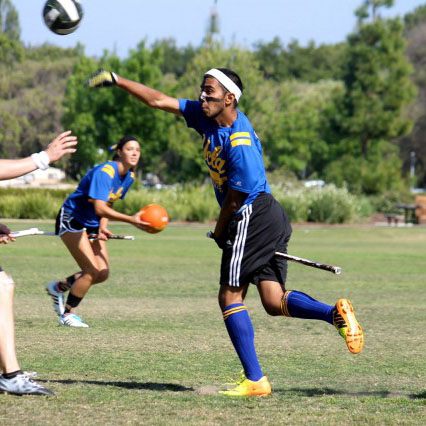 Alice Ji, Features Editor
April 26, 2017
Hang on for a minute...we're trying to find some more stories you might like.
In the wizarding world of Harry Potter, Quidditch is a popular and exhilarating sport for players and spectators alike. But, the game isn't just for witches and wizards, as Muggles enjoy this magical recreation through college teams.
Founded at Middlebury College, the sport is played by over 100 universities in the United States, including Carnegie Mellon, Johns Hopkins, and Penn State. Surprisingly, the team names are not the traditional Hogwarts house names but usually include the college's name or mascot, which is unique to each school. For example, Penn State's Quidditch team is the Penn State University Nittany Lions.
Quidditch is not just played in American colleges, teams from varying countries such as the United Kingdom, Belgium, and Mexico gather to compete in the Quidditch Global Games, similar to the Olympics.
Although they aren't college students yet, some Spartans are already planning to participate in the game when they begin their post-secondary education.
"I would play it [Quidditch] in college because I love the sport; it's so versatile and with its colorful history and violent play I would love to be a seeker and claim the snitch for Slytherin," said junior Kyle Mittauer.
With a unique mix of elements from rugby, dodgeball, and tag, Quidditch is a co-ed contact sport in which teams of seven athletes play with brooms between their legs at all times whilst running, because Muggles can't fly (obviously).
Three chasers score goals with a volleyball-like ball called a quaffle while a keeper defends the goal hoops from the opposing team's chasers. Two beaters use dodgeballs called bludgers to disrupt the flow of the game by "knocking out" other players out of play. Lastly the seeker tries to catch the snitch, which is a player dressed head-to-toe in gold (puts quite the visual in your head). Once the snitch, which is worth 30 points, is caught the game is over. The game may appear chaotic to spectators but it is certainly a thrilling experience for the players.
"While watching Quidditch being played in the Harry Potter movies, I thought that the game seemed really complicated and hard to play" said freshman Elsa Ianotta.
Also, fouls are absolutely not allowed. Quidditch is a full-contact sport but players must still be wary of each other's safety and wear mouth guards. While students at Hogwarts can be admitted into the magical hospital ward to regrow their bones or cure any mundane injury, Muggles cannot severely harm each other while playing Quidditch with the assurance that Madam Poppy Pomfrey will treat them. Not being able to be violent while playing the game could possibly be one downside of Quidditch for college Muggles teams. But take a stab at the game when you get the chance because it's a new experience that you can't find in any average high school sports team.
"It's different from traditional sports so I would try it if you want to find a new interest" said senior Alisha Khalid.