Students in high spirits as school spirit events return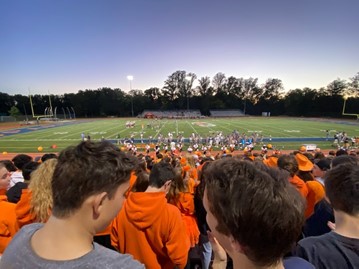 With the return of school spirit events at WS, post-virtual learning, Spartans share their thoughts on what it means to be able to come together and participate in the school community.
"I think [showing school spirit is] fun, especially post-pandemic," said junior Olivia Gondek. "With this homecoming week, it was nice to see everyone getting into it because it was something we didn't have last year."
Students participated in spirit week for the first time since schools first shut down due to COVID-19. This year's themes ranged from Hansel and Gretel, to knights in shining armor. As per tradition, each graduating class also decorated hallways before homecoming and wore their class colors for the school's pep rally. The school came together to celebrate the WS community through yelling contests between each class, the introduction of the homecoming court and fall sports teams, performances by varsity cheer and the dance team, and games including musical chairs and a potato sack race. 
Feelings of unity and a return to a normal high school experience are high among peers and the overall student body.
"I think [school spirit] builds our community by connecting all of us under one title: Spartans," said sophomore Navina Dias. 
After having missed out on school spirit activities last year due to virtual learning, students were happy to join their peers to show their spirit. Senior Jaqueline Welsh noted that the pandemic made her and her peers realize how much she missed participating in spirit weeks.
"I wanted to participate so bad because last year, I realized that I missed so much stuff, including the spirit days," said Welsh
A year and a half away from in-person learning opened an opportunity to reflect on what it feels like to get involved in the school with school spirit events and the effect of having that experience suddenly taken away. 
"It kind of reminded you, like, oh, wait, there's gonna be a point in our lives where we don't have school spirit?" said Gondek when she discussed how her views of school spirit changed during the pandemic. "Which sounds weird, but I kind of missed it last year, like I missed that experience." 
Gondek believes that students participated during homecoming week more this year compared to her freshman year, especially knowing that their experiences wouldn't last forever, so everybody, including her, was excited to join in.
Underclassmen are sharing the same sentiments of living the "high school experience." With them experiencing the first lockdowns as early as mid-seventh grade, they are finally going into their first years of in-person high school. Despite the loss of a transition year to high school and learning through computer screens, they still feel the community they've built.
"I feel pretty connected to this school since it's one of the only schools I've survived a pandemic in," said Dias. She said she made efforts to participate in spirit week, including wearing her class color for the pep rally.
Conversely, seniors are preparing to conclude their high school careers. Watching and learning from what the previous two graduating classes had to lose, Welsh believes her graduating class had the most school spirit. 
"I just want to make the most of every minute I have and just go all out for everything," said Welsh, "and I definitely did that, and I think most of the senior class did that as well."