Happy birthday to…OREO!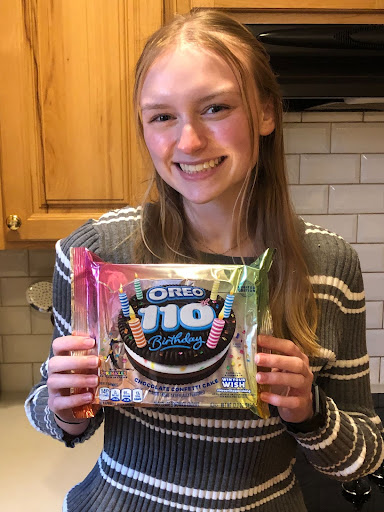 OREO's 110th anniversary is starting with a bang as they release a new flavor that has two different types of cream and sprinkles in the chocolate cookie. The OREO birthday celebration has started to reignite the love students have for OREO. 
"For over a century, OREO has brought fun, playful experiences to fans and we will continue to do just that as we celebrate our 110th birthday," responded U.S. Brand Manager OREO Sydney Kranzmann to The Oracle inquiries. "Our celebration is inspired by the magical birthday moment that spans generations and cultures…when you close your eyes, blow out the candles, and make a wish. We are so excited to celebrate 110 years of Milk's Favorite Cookie by encouraging fans to embrace this birthday magic no matter their age and to never stop wishing – we'll even be granting some fan wishes through our special sweepstakes prizes!"
To accompany OREO's birthday celebration, the lifelong debate on how to eat OREOs resurfaces. Dunkers vs. splitting the OREO vs. eating the OREO plain is a common argument among OREO connoisseurs. 
"I prefer to eat them with milk or plain because they get softer and easier to eat. They somehow have a different flavor when you dip them in the milk: I'm a dunker," said junior Jessica Jost. "You should just eat the OREO all together, all the flavors mixing together." 
The OREO, originally invented in 1912, was created by the Nabisco company. Modeled after popular designs at the time, OREO became a popular treat of two chocolate cookies smooshed together and filled with a layer of cream. The original recipe has barely been tweaked since Sam Porcello, Mr.OREO, invented the unique cookie recipe.
"OREO's are one of my favorite snacks. I'm allergic to eggs, and since OREO's are eggless, they're one of the few cookies that I can eat," said junior Satya Velpula. "They are delicious and can be eaten plain or with milk, and they are easy to find and not overpriced. They are one of my favorite binge-worthy snacks."
Along with being eggless, most OREO cookies are vegan besides a few specific flavors. OREO has been releasing different flavors for years, and they've ranged from extreme flavors to tastes that slowly became classics. Blueberry Pie, Banana Split, Jelly Donut, Root Beer Float, and Waffles and Syrup, are just some of the many unique flavors OREO offers. These OREOs are implemented into groceries across the country for a few months and then the exclusive flavors are removed from the shelves. The practice, which has been met by immense approval from fans, has morphed from a way to test flavors to a recognized marketing practice. 
The OREO cookie phenomenon has not been short lived. The surge of OREO cookie based recipes, the signature OREO look that most Americans would recognize, and the massive success OREO has achieved over the last century clearly defines the OREO legacy: OREO has solidified its name.