Wordle catches the Spartan eye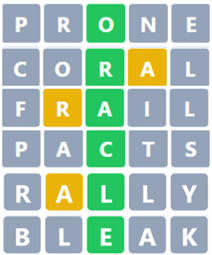 Every morning, students rush to their phones, stare at it for five minutes, and hastily type in letters with the hopes of successfully guessing the daily Wordle.
Initially launched in October 2021, Wordle began gaining traction earlier this year. Since then, thousands of people have been playing the game daily. 
"A lot of people around me, like my parents and my friends, were talking about Wordle," said junior Isabella Shown. "At first, I didn't understand the hype, and when I first started out, I didn't like it that much, so I stopped playing. But then, I started playing again and just got addicted." 
Wordle presents a once-a-day format in which players have to guess the right five-letter word in under six tries. These bite-sized rounds make it convenient and fun to play at any time, but it can also be frustrating for some, having to wait a day to play again. 
"I like the once-a-day format because I like talking to other people like, 'Did you get the Wordle today?' and somewhat bonding over it. But I still like finding sites with unlimited Wordle options," said junior Natalie Lee.
After the New York Times's recent purchase of the game, some have complained over the answers becoming harder to figure out. Others, however, don't believe that the difficulty makes much of a difference.
"People just need to expand their vocabulary," said Shown. "I use basic words, so I can't say anything, but I think [the difficulty] just makes it more fun."
As Wordle has become more popular, so have other versions of the game. Unlimited renditions allow people to continue playing far beyond six guesses. Challenging versions like Quordle have the objective of guessing four different words (or more) simultaneously. Some versions even have players guess anything from words in different languages to countries based on silhouettes of their maps to songs based on one-second snippets of them.
"I've never played other variations [aside from] psych (customized Wordle used in AP Psychology), but I think they are fun and community building," said Lee.
Wordle joins the ranks of the many games that have become trendy in recent years. With the speed at which trends die out, Wordle will inevitably also become one of the trends to lose steam.
"Trends coming and going fast can kind of be exhausting because of how quickly you have to keep up. Sometimes [you aren't able] to enjoy trends for too long before they go away," said Lee. "I used to be really self-conscious about judgment, but now I do what I enjoy."