Quality food, questionable staff
New Jersey Mike's Subs opens in Old Keene Mill Shopping Center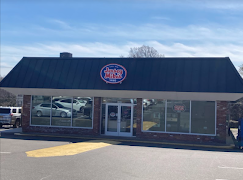 The opening of the Jersey Mike's Subs in the Old Keene Mill Shopping Center has locals buzzing as customers flood review websites with comments about the staff.
I had the opportunity to try out the new eatery myself and the food was spectacular. I ordered the provolone and ham sandwich with lettuce and tomatoes. The staff was extremely friendly, and the service exceeded my expectations. That being said, others have not had the same experience.
"The food was great, the customer service was not," said senior Carter Baumann. "I came in somewhat close to closing [time], and the staff was not happy. I could hear them complaining about me coming in and them having to actually work."
The establishment finds itself somewhat overwhelmed with backlash, as multiple customers have been flooding review pages with similar complaints about the staff. Several customers have reported problems with customer service and their unwillingness to follow COVID-19 guidelines on the app Nextdoor and Google Reviews.
"The employees seemed very frustrated by the fact I was there," said senior Joey MacDonald. "I was the only one there and they were upset that they had to stop what they were doing and take my order. I love the Jersey Mike's Subs chain, and I was ecstatic about one opening up so close [to the school]. It's a shame their staff is drawing people away."
The one constant through the reviews has been the quality of the food, however. I can speak from experience that the food lives up to the hype. The Jersey Mike's Subs located in the West Springfield Shopping Center only offers indoor seating, however, outdoor seating is available in front of the Whole Foods not far down the street. Jersey Mike's Subs is definitely worth a visit. The savory sandwiches are worth a try, if you have the patience to deal with the staff.