New year, new price, same old food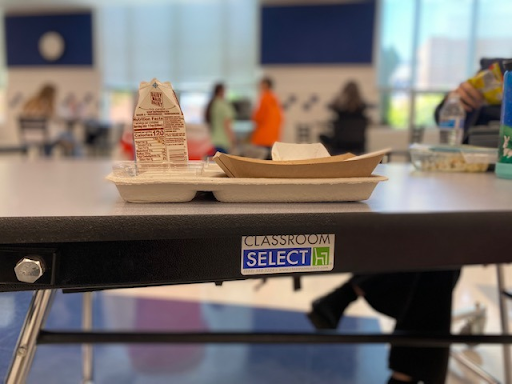 For the start of the school year, FCPS has reverted school lunches to pre-pandemic prices. In response, several students have weighed in on the county-provided service now that it has returned to normal and why they purchase the lunches.
Before the pandemic, although not necessarily spectacular by any means, the lunches provided by the school were enjoyed by the student population. Lines would often spread out of designated areas and into the cafeteria space. When students returned in March 2021 for the first time in a year, FCPS decided that the lunches provided would be free, though they would not be able to be heated in the school building. This caused severe issues such as food poisoning, and many people accustomed to getting the school lunch reverted to either bringing their own lunch or waiting until they got home. For the 2021-2022 school year, the lunches were to remain free and could be heated in the building. This year, they are at the normal price of $3.50 for students.  
"It's better than my old lunch," said senior Russell Jenkins. "It's cheap, [and] it's fast [for the most part.]" 
Though enjoyed by many students, there are several that have mixed feelings about it or even detest it. They may only get it because either they are too lazy to pack their own lunch, or others like junior Michael Zackius-Shittu who only got it last year because it was free. They never liked the meals and believe that changes should definitely be made to the service. 
"I think [the lunches] could be better, I think [FCPS] could add more variety," said Zackius-Shittu. 
Zackius-Shittu makes a fair point. Although there are several themed lines, such as "Grill," "Mexican," and "Italian," there are no more than three options in each line that are alternated every day, meaning that students are left with the same meals every single week. Still, there are students who are indifferent about the lunches, such as junior Zoe Halle. 
"Very middle of the line," Halle said. "I don't feel very strongly about it either way." When prompted, she also mentioned that the only reason she got the lunches was an unwillingness to pack her own. 
Halle's words have been the general consensus of the student body for the last couple of years now. Perhaps it is time FCPS made some changes to the budget, adding more options and variety, and better quality meals