Seniors' schedules bring stress to the new year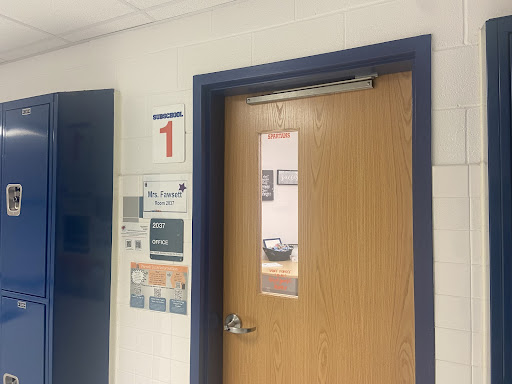 Counselor changes cause undue stress this year as schedules are laced with a substantial number of worries. Students have been unhappy with their class lineups when schedule choices are finalized months in advance, yet can only be fixed mere days before school begins. 
Senior EmmaLia Ciccarello requested a senior late start during course decisions in March, but when she received her schedule in late August, she was very disappointed.
"I wanted the late start to take time for myself and clear my head before school started," said Ciccarello. "Instead, they gave me eighth period off, which doesn't help me in the slightest because I'm a year-round athlete, and I have to be back at the school anyway at 3pm everyday." 
Her mental health is the main reason she asked for this extra time before school, but since her other classes were posing a conflict, there was nothing the counselors or assistant principals could do about it.
Ciccarello's counselor called her a day before schedules came out to try and sort this out before school, but gave very few options which didn't help the situation. 
"The only other option was to drop my theater class, which is my only consistent class I've had for four years, which is what colleges like to see," said Ciccarello. "All of the switches I have suggested were thought up by myself or my friends, my [assistant principal] and counselor haven't been able to do much." 
While her schedule is not yet fixed, she has been working with multiple teachers to see if there are any classes that can be moved around to fix her issue. 
With some new counselors entering the building and the rearranging of subschools, some students are having trouble figuring out where exactly they need to go in order to fix a schedule change.
Senior Kidest Hailu saw a problem with her schedule when she first received it. She tried to resolve the issue quickly before the first day of school only to find out her counselor had left WS and her current counselor had not yet gotten to school.
"I think my mom may have received an email about new counselors throughout the school, but I was never notified that my counselor would change," said Hailu. 
Her schedule had two gaps in it, lacking a sixth and eighth period. She was told that her electives were causing conflicts and none of her alternative electives worked either. Unlike Ciccarello, Hailu did not receive any phone calls or emails in advance. 
"On our first blue day I went to the library during sixth period then I tried to find my counselors during eighth period which is when Mr. Fisher helped me," said Hailu. "There was nothing in person for me to take because every class was full during the sixth and eighth period, or I had already taken the class so the only option was to take an online class sixth period and do an academic seminar eighth period, and my eighth period ended up being changed again later."
Senior Rhea Sidhu received a call during the summer saying that she could either take Government or English, which are both required courses to graduate. Another option was for her to take English 12 online, but Sidhu knew that was not a good idea for her. 
"And then [my counselor] said, 'Yeah, so you can't take Entrepreneurship' which is one of the classes I need to graduate and she instead put me in AP Human Geo," said Sidhu. ""I was like, no, I need entrepreneurship, first of all. Please take me out of AP Human Geo. but then I'm dropping an AP class and I don't want to be dropping one of my APs, I need those." 
To make room for Entrepreneurship and English, Sidhu had to drop her astronomy and AP Human Geo classes. This left two holes in her schedule which her counselor advised her to fix by signing an off-campus waiver and taking academic advising. 
"[Two free periods] won't look good for colleges. I'm going from this full course load to two APs and there is nothing I can do," said Sidhu. "The only classes they have available during fifth period are English 9, German 2, and Algebra 1. I'm like, those are the options you're giving me?"
These schedule issues seem to be a repeat offense, as many students experienced similar difficulties during the previous school year. However, no reform has been made since then and the competence of counselors has repeatedly been called into question. Despite repeated attempts to contact the counselors, there was no response, which still leaves many questions unanswered.